Finally, 46-Day Bayelsa Gas Well Inferno Ceases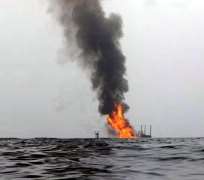 SAN FRANCISCO, March 06, (THEWILL) - After burning for 46 unfettered days, the natural gas fire off the coast of Bayelsa State that killed two people and destroyed a Chevron Corp. rig has stopped, according to a Tuesday statement from the American company.
"The fire at the site of the Funiwa 1A natural gas well offshore Nigeria ceased burning to the surface of the Atlantic Ocean on Friday, March 2. The well stopped flowing on its own," the statement from Chevron spokesman, Russel A. Johnson, read. The company gave no reason for waiting a further four days until Tuesday before announcing the stoppage.
"We continue to watch to ensure gas doesn't begin to flow," Johnson said, in patent acknowledgement of the possibility of another gas flow from the well. "Chevron Nigeria Limited would continue to dig a relief well nearby to permanently plug and abandon Funiwa 1A."
The fire had started on Monday January 16, as a series of deafening early-morning explosions from Chevron's KS Endeavor natural gas rig sitting only 10 kilometres off shore. Two workers — an Indian and a French, died in the blast. In more than a month of burning, the intense fire at the site softened the steel of the rig, consequently causing it to collapse into the ocean.
Chevron also said it continues to investigate the cause of the fire, already acknowledged by the Nigerian government as "gas kick" — a major build-up of gas pressure from drilling, which was itself caused by an industrial accident.