Governorship Poll: Supreme Court Affirms Suntai, Yuguda Victories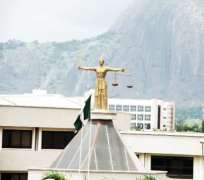 ABUJA, March 05, (THEWILL) – Governors Isa Yuguda (PDP, Bauchi) and Danbaba Suntai (PDP, Taraba) Monday had their elections as governor of their respective states upheld by the Supreme Court of Nigeria.
The Supreme Court declared both men winners of the April 2011 governorship election conducted by the Independent National Electoral Commission (INEC).
Yuguda's election had been upheld by the Appeal Court; but chief challenger, Yusuf Maitama Tugar of the Congress for Progressive Change (CPC) headed for the Supreme Court.
Delivering a unanimous decision on behalf of the five-man panel, Chief Justice of Nigeria (CJN), Justice Dahiru Musdapher agreed with Yuguda's counsel, Prince Lateef Fagbemi (SAN), that the court lacked the requisite jurisdiction to entertain the appeal because it was incompetent and invalid.

Fagbemi had submitted that since it was common ground between all parties that the judgment of the Court of Appeal delivered on January 7, 2011 was a "nullity" having been delivered without the reasoning adduced, no appeal could arise from such judgment.
But Tugar's counsel, Wole Akoni (SAN) differed, asking the court to reject Fagbemi's submission and invoke Section 22 of the Supreme Court Rules to hear the appeal on its merit.
However, ruling on the preliminary objection, Justice Musdapher agreed with Fagbemi that the court lacked the jurisdiction to remedy the blunder of the Court of Appeal.
"The Judgment of the Court of Appeal is a nullity and no appeal can arise from a decision that is a nullity. Therefore, the court lacks the jurisdiction to hear the appeal and cannot invoke Section 22 of the Supreme Court Rules to hear the matter," he pointed out. "Accordingly, the appeal fails and is hereby struck out. The Judgment of the Bauchi State Election Tribunal is further affirmed."

Musdapher also decried the untold hardship litigants go through in pursuing cases, and urged the National Assembly to accordingly amend the constitution to make it less cumbersome.
The court similarly threw out the appeal seeking to remove Governor Suntai, citing invalidity of the appeal against him since the judgment of the Appeal Court was a nullity having failed to contain the reasoning in line with Section 285 of the 1999 constitution as amended.
Only last Friday, the Supreme Court upheld the election of Dr. Emmanuel Uduaghan and Rochas Okorocha as governors of Delta and Imo states respectively.
In two separate judgments, the apex court adopted the same reason for upholding their elections. It held that the judgments of the Court of Appeal, which formed the bases of the appeals to the Supreme Court were nullity because the judgments were delivered outside the 60 days allowed by the constitution.
In the case of Delta State, Justice Tanko Muhammed who delivered the lead judgment nullified the judgment of the Benin Division of the Court of Appeal — the bedrock of Great Ogboru's appeal to the apex court.