You Are What You Wear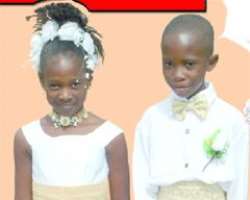 Sixteen-year-old Baaba burst out of the house in an angry mood and shouted on top of her voice to her mother "I have changed it", "I have changed it".
Her anger was written all over her face when she boarded a car to attend a friend's party. She had saved enough money to buy the "shadders" for that particular party.

Her mother's 'crime' was that she asked her to change the dress and wear a more decent one for the party. But Baaba did not see eye-to-eye with her mother on the choice of an attire.

This problem is not new in the homes of most teenagers. They always argue with their parents about the dresses they wear. Most of them want to be fashionable but sometimes the dresses they wear are not decent.

Most teenagers sometimes wear trendy clothes to identify themselves with the famous, such as musicians, actresses, footballers, hip hop stars, etc.

Sometimes teens want to dress according to their interests and affiliations. Usually, wearing branded clothes gives them a sense of belonging and they also seem to enjoy popularity among their peers.

That explains why most boys and girls crave for branded clothes and shoes such as Levi Strauss, Adidas, Nike, Puma, Calvin Klein, Next, Banana Republic among others.

The urge to follow teen fashion trends are considered by some as mere waste of money. Not all teenagers are rich enough to spend money on expensive clothing in order to catch up with the changing trends in fashion.

However, creative teenagers have their own ways of fulfilling their passion and others also save their pocket money in order to buy clothes and accessories that are in vogue.
Through fashion, they successfully reveal their true personalities.
Some teen girls dress up, revealing their abdomen, wear low-cut shirts and tight jeans that show too much flesh, all in the name of fashion.

Boys, on the other hand, wear baggy trousers, dropped down their waste line with their underwear showing. And the surprising thing is that when they are told to pull their trousers up, they would just pull it up a little bit and within a few seconds, it drops again.
During vacation classes the competition on "shadders" become very keen among youngsters since most organisers do not prescribe what to wear.

What many teenagers tend to forget is that the dress they wear portrays who they really are.

It is important to remember that first impressions matter a lot. Most people judge you by the dress you wear. You can be fashionable but you need not sacrifice decency under the guise of fashion.

Dressing decently at all times will win you the respect you deserve.

By Hannah A. Amoah