THE PETROLEUM REVENUE SPECIAL TASKFORCE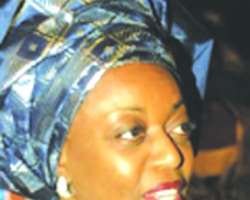 It is a truth generally acknowledged that long before the fuel subsidy crises, no institution of government, nay, parastatal has been so roundly criticized, labeled a cesspit of corruption and held responsible for the nation's economic woes than the Nigerian National Petroleum Corporation (NNPC).
Studies and newspaper reports have been awash with the mismanagement of the nation's 'goose that lay the golden egg' and indeed, sharp practices at different points of NNPC so much so it is difficult to know how much oil Nigeria is pumping, how much is being paid to government and how government is using it.
A-2010 Stanford University Study titled 'NNPC and Nigeria's Oil Patronage Ecosystem,' revealed much to the extent that NNPC's operations are disproportionately concentrated on oil marketing and downstream functions, which offer the best opportunities for private benefit and underhand activities.
The Study also exposed the fact that NNPC is actually at its best when it is acting as an instrument for dispensing political patronage and each additional transaction generated by its profuse bureaucracy, provides an opportunity for well-connected individuals to profit by being the gatekeepers.
Despite its formal organization as a vertically-integrated oil company, the report continued, NNPC is neither a real commercial entity nor a meaningful oil operator. That it lacks control over the revenue it generates, unable to set its own strategy and relies on other firms to perform essentially all of the most complex functions that are hallmarks of operating oil companies.
If the truth must be told, no nation can allow this dismal economic macabre dance at any point in time. The setting up of the Petroleum Revenue Special Taskforce is, therefore, an obvious answer and a welcome fallout from the recent fuel subsidy removal strike embarked upon by Organized Labour and Civil Society organizations.
By this singular policy thrust, government is saying that corruption which has eaten deep and ravaged the nation's oil sector must be a thing of the past. While this is desirable, nothing is more apt to turn NNPC round for good than the caliber of persons appointed to the Taskforce. It demonstrates sincerity on the part of government and strictly in consonance with the yearnings of Nigerians for transparency in the petroleum industry and conduct of Government affairs.
Prof Jacob Olupona, 2008 Nigeria National Order of Merit recipient and Professor at Havard, writing recently in one of the National Dailies on The Leaders Nigeria Needs to address many of Nigeria's debilitating national problems, especially in the Education sector, postulated his 'alatunse' theory. He insisted that Nigeria needs a horizontal construction of leadership where each person is empowered to benefit the larger community and ensure basic human rights by responding to the dictates of the nation's situation.
President Jonathan must have had the Professor in mind in constituting the 20-member Task Force. The Committee is star-studded with experienced intellectual, professional and ethical heavy weights. By their personal integrity, manifest ability to perform and antecedents in Government and Private projects, they aptly fit into the theory.
There is much confidence, given their track records, that they will not only operate within the ambit of the terms of reference but will exceed them, in a dispassionate and diligent manner, without compromising their professional calling with a view to reversing the hitherto business-as-usual template in the nation's oil sector.
One hastens to agree with the appointment of Mallam Nuhu Ribadu as Chairman of the Taskforce. He will do everything possible to replicate his excellent performance as the pioneer Executive Chairman of EFCC given his high strength of character, academic attainment and requisite cognate experience.
Steve Oronsaye was at various times, Head of Service of the Federation, Permanent Secretary of almost all Federal Ministries including Finance and the State House. He has headed many Presidential Committees including present Panel on the Structuring and Rationalization of Federal Parastatals. He will also work hard to justify the confidence reposed in him.
Bon Otti, brilliant, taciturn, firm and decisive, is a bold man of character and integrity. A project Consultant with international banking exposure and experience, he comes from the Private Sector, very low keyed and is an unsung hero who has served creditably in many integrity-driven Presidential assignments including the Presidential Projects Assessment Committee where he is the Vice Chairman. It is important to emphasize that every member of the Special Task Force is unique in his or her own way. They are well known, ever serious with issues and assignments.
Mr. Olisa Agbakoba, in particular, has elicited favourable comments from the general public since his inclusion. Mr. Agbakoba also of the Civil Society Organisation (CSO), has been in the vanguard of struggle for the entrenchment of human rights and rule of law . He suffered horrendous harassment, intimidation and incarceration in the hands of despotic leaders in the past.
He, also, deserves our commendation to develop, through the Taskforce, an automated platform to enable effective tracking, monitoring and online validation of income and debt drivers of all parastatals and agencies in the petroleum ministry, and integrate systems and technology across the production chain to determine and monitor crude oil production and exports, ensuring at all times the integrity of payments to government.
Okwuaka writes from Owerri.