LET US ADOPT THE ABURI ACCORD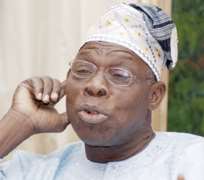 OBJ
The issue of a national conference or sovereign national conference has taken over the airwaves. It is not new. A similar conference took place during the Presidency of Chief Olusegun Obasanjo. Six years ago the Pronacco Organisation under the leadership of Late Chief Anthony Enaharo convened one, with far reaching conclusions.
What hope is there that something meaningful is going to come out of another similar conference. Perhaps this is why the current national Assembly is pouring cold water on any talks on national sovereign conference. The lawmakers' likely is t fear is that of possible loss of privileges, Perhaps constituency allowance is a likely causality in any such conference of Nigerians of Ethnic Nationalities, sitting together to agree on modalities for this future existence.
Our legislators prefer to invoke the Nigerian constitution as the ground-norm of all activities involving the Executive, the legislature and the Judiciary in their exercise of any and every function that touches on the lives of Nigerians.
To them, the amendment of this constitution is welcome, but no, to a national conference. Proponents of the conference fault the current constitution as a military decree, proclaimed by a military head of state and which did not include the views of other Nigerians or their representatives.
They insist that military decrees have done incalculable harm to the psyche and wellbeing of most Nigerians, One such decree cancelled out-rightly the Republican constitution of 1963 and by so doing, abolished the regional autonomy of Nigeria's four regions; eclipsed the federal arrangement that allowed residual powers in the regions, killed the derivation principle that allowed 50% to stay with the regions that earned the revenue and Transferred to the centre, several government activities that were manifestedly better handled by the regions. That same decree brought revenue sharing to the doorsteps of the central government Naturally Nigeria went into limbo. Our contemporaries at that time, South Korea, Malaysia, Singapore Thailand & Indonesia took off and showered, leaving us behind.
Another decree annulled the verdict of Nigerians on June 12, 1993 and yet another accepted the well-thought-out six geopolitical zones but mangled its emergence with a lopsided configuration of seven states in one zone six in four and five in the remaining zone. The last of the six has a combined number of Local government less than the number in one state of the big seven. The arrangement was deliberate and it carried a number of implications which were also envisaged by the perpetrator.
Some of the implications include inadequate representation at the national Assemble, less opportunities in administrations to Universities and federal colleges; same in employment and promotions in all federal government ministries and parastatals. Democracy berthed in this country in 1999-13 years ago, with a National Assembly that believed absolutely in the amendment of the constitution to correct proven inequities and injustice, yet no motions have been moved and no laws have been passed to correct anomalies that came with that democracy and some that came with the end of the civil war. The question is: would these anomalies have remained unattended to, in an arrangement where all Nigerians sat together to decide the future of their co-existence?
Who then is afraid of a national conference, or even sovereign national conference, only somebody with no sense of history. It is a fact that Nigeria as a unit came through the act of one man and his wife-Lord Luggard & Co. To give that entity National acceptability, Nigerians of many ethnic groups held conference after conference with Britan, begging from 1922 to the Lancaster agreement of 1959. Britain did not decree Nigeria's Independence but accepted the wishes of Nigerians, as expressed through their representatives, Britain granted Independence to Nigeria with three regions.
Nigerians on their own fashioned out the republican constitution of 1963 and added a forth region-the Midwest region in 1964. The economy of the regions boomed. Governments floated factories and promoted agriculture and food was plentiful. Kaduna, Kano, Ikeja, Ibadan, Enugu and Trans-Amadi Industrial Layout P. Hall became hubs for business moguls.
The jack books came in 1966 and laid waste, all that the fruitful brains of our founding fathers created for a nation that was rearing to go. They used their decrees to bastardize the fruits of several conferences of our nation builders. At a point however, their decrees were no longer producing results because they fell apart and the centre could no longer hold. By their activities the danger of a Civil War was in the horizon.
By providence they accepted to go for a conference in Aburi-Ghana. True another conference!! Gowon and the regional governors of Ojukwn, Ejoh, Katsina and Adebanyo were all there. It was a historic conference. Surprisingly it worked.
Aburi Accord was an agreement by Nigerian leaders in search of solution to Nigeria's problems. It can not be called the position paper of any of the regions. The problems they faced in 1967 is same with today's problems in Nigeria. That document should be published and adopted by us. Its contents should be serialized in our dallies – thanks to the freedom of information act. Can any other conference yield any better result?
Ojielo writes from Lagos.