Jonathan Fully Prepared for Corruption - Niboro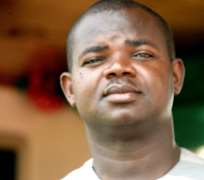 ABUJA, March 04, (THEWILL) – Former spokesperson to the president, Mr. Ima Niboro, in this interview, assesses ongoing reforms in the petroleum sector, and submits that criticisms of President Jonathan's ability to tackle corruption are unwarranted.
What is your reaction to the current reforms in the petroleum sector?
I want to note that in the past few weeks, certain things have taken place in this country that people are not giving the president enough credit for. I was watching Channels TV this morning and I heard a commentator say that the president cannot fight corruption in this country because he is a product of corruption. I felt personally upset by such a short-sighted comment that is not based on any fact at all.
The oil industry and indeed the NNPC has been the cash cow of successive administrations. It has been where all kinds of illicit funds are gotten to prosecute all kinds of private agenda. NNPC, in the past, before the advent of the present administration has been an institution where you get access to all kinds of slush funds, all kinds of free monies that are unaccounted for. Because of this, through the years, NNPC is a company in name only. Before now, it was actually an arm of the federal government.
In the same time that NNPC was set up, like other national oil companies such as ARAMCO of Saudi Arabia, PETROBRAS of Brazil and PETRONAS of Malaysia, all these companies are keen global players today with investments ranging in billions of dollars. They are quoted on international stock exchanges, they have investments all over the world, and they are key players globally while NNPC on the other hand is a mere shadow of itself. I know that one of the first things the President wanted to focus on was to cleanse the NNPC; because you have to go to the source of corruption to deal with it.
Now, certain committees have been set up and Nuhu Ribadu himself was brought to take a total view of accountability of the NNPC. People do not know how far-reaching the significance of this is. This is a government that has a billion-dollar cash cow that it can take money each time it wants; but this is a President that is saying, "No, I am not interested. I want this company to become key global player and compete across the globe like others. I want this company to be a source of pride to Nigeria; that it will be quoted on stock exchanges all over the world, which other global players will invest in."
Now, for somebody to say that this president is not capable of fighting corruption; I think indeed it is a very short-sighted comment. It is a comment that is uninformed, that has no basis in fact and in reality. The president could have easily gone on with business as usual. There is a lot of money to be made. Governments, in the past, made monies from NNPC. NNPC was just the source; you needed to pay fees for some people, it was NNPC; you needed to bankroll an election somewhere, it was NNPC; you needed to donate money to victims of flood disaster somewhere, it was NNPC. But this President has said, "No, NNPC is a national institution that must take its pride of place as a global player." I think the President deserves to be commended.
There are fears that the reforms are targeted at some people. And will Ribadu be empowered enough to probe the oil sector?
Let me tell you straight away that Ribadu, by the virtue of his appointment, has been empowered to go after anybody. So if he fails to go after some people, that is his decision and not that of the president. The President, through the Petroleum Minister, has given him the powers to do this, to clean up this place and make it a completely world-class organisation. Don't forget there are other committees set up but this is the key one. Now, what Ribadu will do or will not do will not be dictated to him by the president. He has already been given the mandate to go and get this job done, and Nigerians fully expect him to get the job done. So, I don't see any situation where the President or the administration will tie anybody's hand because if the administration was not interested in cleaning up NNPC, it won't start in the first place.
The probe by the National Assembly has exposed a lot of dirty deals in the past and none of those involved have been held to account. Yet the searchlight is being beamed on the present crop of individuals in the sector. How sincere is this move?
I think your question answers itself. What is going on is an investigation. You start from what you know to what you do not know. So the present actors are the actors you know, you start from there and follow the trail where it leads you. It is like good old police work, you don't start a murder investigation away from the murder scene; you start by grabbing those on the scene, asking questions from where you trace it back to who could have been responsible. So that is what you see going on today. I don't see this as a witch-hunt, what I see is a federal administration that is determined to make sure that things are done right.
If an administration is determined to clean up its institutions that have appearances of corruption, it requires a lot of courage to do this because corruption is easy and honesty is tough. And it takes courage for a government to say it wants to be honest and wants us to do things the way they are done elsewhere in the world; it takes courage to want to do that. I think President Jonathan must be commended for what he has instituted.
With all sorts of committee reports and white paper reports, can this government do what it says it will do? I don't see the Ribadu's committee as one that was set up to sit for one or two weeks. It is a committee that was set up in the administration of NNPC, and I don't think there is a time limit to it; it is meant to continuously look at issues at NNPC, take decisions and advise. This is not your normal committee that is to produce a white paper that will be forgotten somewhere. This is an ongoing activity that will be looking at day-to-day reforms in NNPC and issues of accountability across the board; not just NNPC but even the oil majors also.
One of our governors was said to have raised an issue a couple of days ago, an issue that has been at the forefront of discourse amongst our people that even the oil companies do not actually account for the exact barrels of crude that are lifted from this country. So, this is what the Ribadu committee will be looking at too: what is taken from this country, what Nigeria receives from what is taken out and where what is not accounted for goes to if indeed it is true that some of the crude taken out is unaccounted for.
On SURE Programme I am not holding brief for the president, although I have no apologies for doing so. But sometimes, I think people are very unfair to this president. The other day, NLC and other organisations were up in arms that the President has changed his mind on the SURE programme and therefore should revert petrol price to N65 per litre, that he has deceived Nigerians.
I find this really unbelievable. Why can somebody's good gesture be so outright misinterpreted? From the information I have, the president went to a function and he saw that they were distributing a SURE document that was based on 100% removal of subsidy. Some other presidents will keep quiet and ignore it but he said, "No, I want to be straight with my people. Gentlemen, that document you are distributing please withdraw it; we cannot work based on that document because what we have is less than 100% of subsidy fund. So we have to rework that document to align with the current realities."
Now people decided to thoroughly and deliberately misrepresent the president, deliberately distorted his comments, deliberately and mischievously tried to state that the president has backed out of SURE. I find it completely unbelievable but I thank God that eventually it has been refuted.