CREATING JOBS THROUGH RURAL ELECTRIFICATION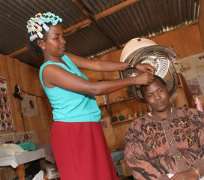 Iwali Odida is a young industrious lady. At 23 she has become an employer of labour in her Utugwang Community in Obudu Local Government Area of Cross River State. With a well equipped hair dressing salon located on Ogoja – Obudu road, she's been able to employ four women. This is besides the five girls learning the trade under her tutelage. Thus, her salon is a beehive of activities everyday.
Miss. Odida represents thousands of other women in Cross River State who are self employed courtesy of the State government's rural electrification programme. Her colleagues in this line of trade have mushroomed all over the rural communities that have been connected to the national electricity grid. And they are making it. Through this facility, many young women in the hinterlands who hitherto were trafficked to the cities for forced labour or prostitution now have something to do.
Young men too are not left out of this benefit of electricity revolution in the State. Like their female counterparts, they too have set up hair barbing salons. On daily basis they make brisk business barbing men and women. All they need is barbing clipper, mirror, sterilizer chemical and a room or shade to start business. This business does not need capital as such. Students are into it too.
The rural electrification programme of the Liyel Imoke administration is the tonic of industrial activities in Cross River State. It is to its credit that small and medium scale businesses are springing up in different parts of the State. With over 800 villages across the State linked with electricity, economic activities are booming just as it has helped to stem rural – urban drift.
This programme forms part of the rural transformation scheme of the administration. As a well thought out programme, rural electrification remains a singular project that has so far made a difference in the lives of the people. With it, there has been a drop in the purchase of generators from urban centres. Those who had already purchased generators are not using them much.
There are 18 Local Government Areas in the State. Of this number, there is none without electrification project. Villages far flung from the urban centres have been electrified. Besides completing all abandoned projects of its predecessor, the Imoke administration went ahead to initiate more projects. Today, the government has executed rural electrification projects more than previous governments put together.
Interestingly, contracts for rural electrification projects are awarded to reputable companies. These are firms with a track record of performance in electrical engineering. The award follows due process which means the job is monitored and payment effected according to level of performance. Any shoddy job is revoked as the State government does not compromise quality. All this put the contractors on their toes.
Despite the rocky terrain of some Local Government Areas in Cross River North Senatorial district, the State government has not failed to take electricity to villages buried in valleys or on mountain top. This explains why villages in Obanliku and Obudu Local Government Areas are today linked with electricity. The same applies to communities in marshy terrain or coastal environment in the southern part of the State.
A census of the villages electrified already will reveal that those yet to be hooked to electricity grid are fewer. This is because rural electrification remains the most outstanding achievement of the Imoke administration. It is expected that the government will do more in its second term. The desire of the State government is to take populist projects like this to the people. This is the only way to spur the people into economic activities.
More investors are today encouraged to venture into rural communities. Some have conducted feasibility studies on their line of business while others have signed memoranda of understanding with the State government. Some of these communities are blessed with raw materials which have been wasting away over the years. But with their connection to the electricity grid and construction of access roads to them, these communities are in for a new lease of economic life.
Before now, rural parts of the State had no store selling electrical appliances. But with the coming of electricity, electrical/electronic shops are being opened for people to buy from. Instead of travelling to the urban centre to buy bulb or any electrical part, rural dwellers walk to the nearby store to make purchase. Transport fare is saved and time of going to the city used for farming or any other income yielding activity.
There seems to be a competition among rural folks on the installation of DSTV. It is a fad among them. This has been made possible by the provision of electricity. Both young and old today watch European football and other international programmes on television courtesy of DSTV. Operators of such digital satellite receivers make money from those who come to watch football matches.
In some villages, fan clubs have emerged with members of each club forming themselves into thrift societies. In others, members identify with a colleague who is bereaved or getting married. All this is borne out of love and portrays a spirit of comraderie among young people. Without electricity, the world may not have truly become a global village to these communities.
Closely connected with the aforementioned factor is the increase in the purchase of television sets by rural dwellers. The availability of electricity means every household should struggle to have a television set for relaxation. Those in the hinterlands are lovers of Nigeria's home movies. They purchase films as they are released and learn a lot from them since Nollywood teaches true life stories.
Another development associated with the advent of electricity in rural areas is the interest shown by young people in electrical/electronic engineering. Many have taken to acquiring skills in this field in urban centres. Those who have acquired vocational trade in this field are today into conduit and surface wiring of houses. They also install satellite dishes for people. Some combine plumbing and electrical works during training and are today adepts in both.
Electrification is a big plus for the State government. Today, rural people watch its development programmes on television. They are now convinced that government is alive to its campaign promises as they can easily see government in action. Government projects are no more hearsay but tangible. They also follow programmes of government as they are always informed on radio and television. Viewing centres are helping out too.
Electricity is key to industrialization. The Imoke administration realized this and decided to embrace it. Since it is pivotal to all economic activities, electricity like water is life. Without it the wheels of progress will not turn and development will be stagnant. And like road project, electricity is one Public utility that benefits the populace. It is a project that everybody feels, sees and touches.

The development revolution in Cross River State under Imoke is a product of a well articulated programme meant to take government to those who need it most. And since a bulk of the population of the State reside in the rural areas; any meaningful government project is bound to impact positively on the people. They are the people who need government most. Thus, provision of electricity in rural Cross River is one way of teaching the people how to fish instead of giving them fish to eat.
Written By Innocent Abu

Disclaimer:

"The views/contents expressed in this article are the sole responsibility of

thewillnigeria.com

and do not necessarily reflect those of The Nigerian Voice. The Nigerian Voice will not be responsible or liable for any inaccurate or incorrect statements contained in this article."
Articles by thewillnigeria.com