"Gold" for Ghana at Miss Caribbean Commonwealth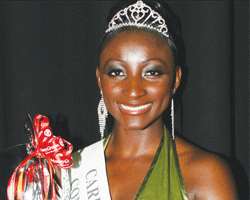 SHIRLEY DEE, 19th Miss Caribbean & Commonwealth, is the third Ghanaian to have won the title. Jacqueline Baker and Michelle Supersad , both from Trinidad & Tobago, were voted second and third respectively. The twin-island state of the Caribbean has furnished either the winner or runner-up in three of the last four contests - the exception being last year when there was no T&T representative.
Commentators quoted the judges as saying afterwards that whereas most of the contestants had excellent individual qualities Shirley Dee brought together what was in their opinion the best blend of "good looks, pleasant personality and knowing how to behave".