Boko Haram Members Blown to Death during Bomb Manufacture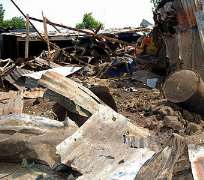 MAIDUGURI, March 03, (THEWILL) - Nemesis hit three suspected members of the deadly Boko Haram sect on Friday when what began as a bomb-making process at a clandestine factory landed them in the grave following an unexpected explosion that ripped their bodies apart.
The explosion, which occurred at about 10:30am in a factory delineated from the University of Maiduguri by just a fence, shook the entire Kaleri Ward in London Chiki area of Maiduguri metropolis, leaving confused residents scampering for safety. The roof of the bomb house-factory was reportedly blown off as fire gutted the whole house.
Eyewitnesses at the scene of the incident disclosed that bodies of the threesome were charred beyond recognition while undetonated Improvised Explosive Devices (IEDs) littered the area. As at the time of filing this report, the building was deserted as residents feared that the undetonated bombs could explode anytime.
In an interaction with THEWILL, Field Operation Officer of the Joint Task Force, dubbed Operation Restore Order in Borno State, Colonel Victor Ebhaleme said the explosion was one of the many dangers his men were exposed to, in their bid to maintain law and order in the State.
He marvelled at the sophistication of the technology being employed by the sect to make bombs. "You can see how they make the explosives and attach a wrist watch to it as the timer. This is to show you that they have gone far in their operations. But thank God the thing is exploding with them," he said.
"You know, when you come around here, you cannot know that such thing is going on. You see them as busy labourers or people who have run away from troubled areas, not knowing that they are the ones going about taking innocent lives and destroying people's properties."

He assured that government would provide caterpillar to pull down the rest of the building, to ensure that no explosive is left within.