Ohemaa: All children Need Their Mothers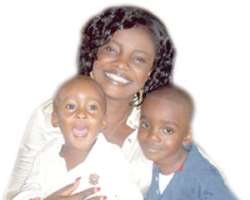 If you have been wondering where leading gospel artiste Ohemaa Mercy got the encouragement to be where she is now, the answer is clear: from her mother.
The songstress, who recently won the Gospel Artiste of the Year, Gospel Album of the Year and Album of the Year honours at the 9th MTN Ghana Music Awards main event, now has two children of her own- Kelvin Nyamekye Twum-Ampofo, four and Emmanuel Nhyira Twum-Ampofo, one-and is determined to also be a truly warm and caring friend to them.

Her perculiar situation is that she is a performer in demand at the moment and often has to stay away from her children. She admitted to Showbiz that it is a tough balancing act but she manages to spend quality time with them whenever possible.

"All children need their mothers. The older one often asks why I'm not home a lot of the time and I try to explain things to him," Ohemaa said as she cuddled her two boys during the interview.

"I don't have a lot of time for them but I try to solve their problems and make them happy at the times that I'm home."
Making them happy, by her description, entails taking them out sometimes or just being around at home and chatting and laughing together.
"For me as a Christian mother, I believe making them aware of God's word, even at their tender ages is important. Emmanuel is still too young to understand certain things but we involve Kelvin in our morning devotion and he sometimes wakes me so we can pray if he happens to be up earlier."

Ohemaa says the zeal to please God was instilled in her by her mother and also attributes the desire to succeed to her.

"My early understanding of certain important Biblical tenets came from my mother. She also supported me all the way when I was getting into singing. My father was not so enthused about it but my mother who saw the talent early and urged me on. I would not be the Ohemaa Mercy everyone knows now without her. I talk to her regularly and I thank God for her life."

Despite her strong feelings about her mother, Ohemaa contends that it is not only our biological mothers who nurture and care about us and that it is necessary to always acknowledge the other mother figures in our lives.

"Women are special people in God's sight. He listens to their prayers when they genuinely and wholeheartedly cry to him. That's why I ask all women to pray for God's favour so that we can stand firmly at all times for our families and our nation."

Her mother was her anchor and she has, despite her often busy schedule, positioned herself to be a rock for her children to cling to.

Story by Nii Laryea Korley