Nigerian Terror Sect Torches 5 Schools In Maiduguri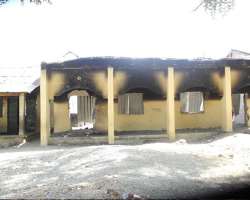 GWANGE 1 PRIMARY SCHOOL BLOCK OF CLASSROOMS SET ABLAZE BY UNKNOWN ASSAILANTS ON WEDNESDAY(FEB 29, 2012) NIGHT IN MAIDUGURI
… As Parents Keep Kids Away From Schools
MAIDUGURI, March 01, (THEWILL) – The terror group operating in northern Nigeria, Boko Haram Wednesday and early Thursday morning torched at least five schools in Maiduguri, the Borno State capital.
THEWILL gathered that at least 10 armed members of the sect attacked Gwange 1 Primary School around 9pm on Wednesday and doused the classrooms in the school with petrol before lighting it up.
The second school torched -- Gwange 3 Primary School is a few blocks away from Grange 1. Both schools were torched on Wednesday.
The onslaught on schools is a new strategy by the radical Islamic group, which says Western education, and influence is sinful.
The attacks have forced parents to keep their wards away from schools, as most schools visited by our correspondent on Thursday had few pupils attending classes.
On Thursday morning at about 7.30am, Success International Academy, a private school run by a Ghanaian was torched.
Another private school, Sunshine Private School located around the Old Maiduguri area was also set ablaze by members of the Boko Haram. In all seven blocks were razed forcing the school to shut down.
An eyewitness told THEWILL that another school in the Old Maiduguri area suffered a similar fate. No lives were however lost during the attacks.
The Borno Police Command Spokesman, ASP Samuel Tizhe confirmed the attacks to THEWILL.