Ibori in Dramatic U-turn; Refutes Plea-bargaining Story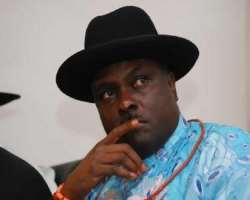 FORMER GOVERNOR OF DELTA STATE, JAMES IBORI
SAN FRANCISCO, February 29, (THEWILL) - Former governor of Delta State, James Ibori has sensationally refuted stories of his pleading guilty to money laundering charges, urging his supporters to ignore news reports of the last court session because they were "twisted to insane levels" by media manipulation and direct disinformation and misinformation.
Speaking through his Media Assistant, Mr. Tony Eluemunor, Ibori said that the world was made to believe that his plea of guilt was a sudden turn-around instead of the well-deliberated part of a plea-bargaining deal that it was.
"Of course, that plea-bargaining deal would only kick in with Ibori's pleading guilty, which he did this week Monday. After that plea, both the Prosecution and the Defence Counsels were to return on 16th and 17th April to make their needed statements," the statement read. "Unfortunately, while Ibori's lead counsel stayed true to this time-tested legal procedure, the Prosecution Counsels went rogue and began to make wild and unfounded statements aimed at nothing but self-glorification and Ibori's demonisation."
It further noted that the prosecution lawyers were labouring at damage control, as the publication in several Nigerian newspapers had leaked out the secret that the seven-year investigation against Ibori had not only cost the British taxpayer £14 million but was funded by the Department of Foreign Development. "The Prosecution then laboured hard to justify the money spent and stave off another official inquiry into the much investigated London Metropolitan Police that has been accused often of grave misdeeds."
The statement argued that Ibori's ultimate priority is the dropping of all corruption charges against him, for lack of evidence. "Any claim that any corruption charge is facing him is pure propaganda. He did not plead guilty to any corruption charge. With the corruption charges removed because they could not be proved beyond any reasonable doubt, the Police stayed with money laundering charges, which are to be proved by nothing but inference.
"The British and the Nigerian establishments have been driving this case to a pre-determined end, and a battle-weary Ibori was advised to plead guilty, end what had promised to be a long-drawn trial, and begin to rebuild his life which had been tossed about in an ocean of legal controversy and trials because of politics - since 2003, that is nine long years ago," it concluded.
The latest pronouncement from Ibori's camp comes as a crass deviation from court-day proceedings, during which the prosecution had tried to thwart the plea-bargaining move, but the judge ruled in favour of the controversial politician. April 16 and 17 April have already been earmarked for his sentencing.