OKOROJI DEVASTATED AT THE DEATH OF JAMES IROHA OKOROJI DEVASTATED AT THE DEATH OF JAMES IROHA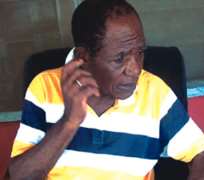 The Chairman, Copyright Society of Nigeria (COSON), Chief Tony Okoroji has expressed great sadness at the death of Mr. James Iroha, known nationally as "Gringory".
Mr. Iroha who created the nationally acclaimed sitcom, Masquerade in which he featured as Gringory, the senior houseboy to Chief Zebrudaya Okorigwe Nwogbe was reported to have died in Enugu earlier this week.
Chief Okoroji has described the late Mr. Iroha as one of the greatest creative talents that Nigeria has ever produced. He recalled that Mr. Iroha played host to him a few months back in his Umuahia home where they had concerted discussions on how to activate some creative projects that Mr. Iroha had conceptualized. Chief Okoroji at the meeting had also promised to generate response to the debilitating eye problem that James Iroha was experiencing.
Just before the news of the passing on of Gringory, Chief Okoroji had concluded arrangements with Mr. Olu Akinlabi, Senior Project Manager, "Who Wants to be a Millionaire" for a special appearance of the COSON boss on the popular Television programme specifically to assist Mr. Iroha.
Reacting to the death of James Iroha just a few months after the death of another Masquerade star, Christy Essien-Igbokwe who was discovered by the great James Iroha, Chief Okoroji exclaimed "this is a bit too much and absolutely devastating. I took a crew to Umuahia a few months ago and recorded a significant video interview with James Iroha. Some of that was used in The Story of The Lady of Songs, the cradle to death documentary which I produced on Christy Essien-Igbokwe. A great part of the interview dealing with the experiences of James Iroha is yet to be seen by anyone. I hope we can put it together soon and let the nation see. I am saddened by the fact that we were unable to execute much of what we had planned to do. There will never be another James Iroha".
James Iroha studied theatre arts at the University of Ibadan and was conferred with a national honour by the Federal Government of Nigeria. He will be surely missed.