Myshel: I love The Ghana In Me!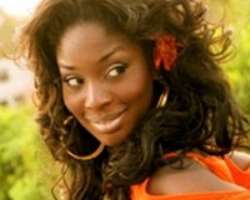 I love talent especially new talents so i usually fish around the net looking for the new "IT". Gosh i think i have a new obsession. Her name is Myshel and she is Half Ghanaian, the other half i am not sure. Not only is she blessed with a good voice, she seems to be representing Ghana like no other. Did i mention that she is hot?!!
Myshel made her debut as a singer at the tender age of seven. Today she has emerged as a multi-dimensional artist, having penned dozens of insightful songs designed to move you.
"Music is a beautiful gift, but it must be used wisely," reveals the Kentucky native. "Music is too powerful. It has to say something and speak life."
A life filled with culture carried her on travels abroad with her missionary father, and Ghanaian mother. She has graced the stage, singing in countries such as Trinidad & Tobago, El Salvador, Venezuela, Johannesburg, and Ghana. She's worn several crowns--not for the glamour--but to inspire thousands of women to look beyond the surface and see a radiant queen inside themselves.
Myshel reigned as Miss Tennessee State University 1999-2000 and in that same year, she received the title of Miss National Alumni Hall of Fame after competing against queens form the nations top historically Black Universities and colleges.
Recently, Myshel has toured as a background singer for Kelly Price, Tamia and American Idol's Mandisa Hundley. Myshel creates from the soul.
The music world eagerly awaits the rich, colorful sounds of Myshel. The stage is set. The curtain is up. And into the spotlight steps an illustrious, gifted, musical gem. Her electrifying lyrics echo truth, and spark untapped emotion.

Words: myspace.com/myshelnternational