Stock Index Futures Point To A Firmer Start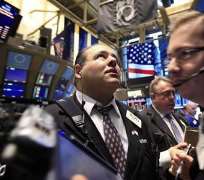 U.S. stock index futures pointed to a firmer open on Wall Street on Wednesday, with futures for the S&P 500, Dow Jones futures and Nasdaq 100 futures rising 0.1-0.2 percent at 4:58 a.m. ET.
The FTSEurofirst 300 index .FTEU3 gained 0.5 percent as investors anticipated that a large number of banks would take up the European Central Bank's second long-term refinancing operation which would help flood the financial system with cash.
Economic data will be a main focus for the market, with U.S. preliminary quarter-four GDP (second estimate), due at 1330 and U.S. Chicago PMI for February index of manufacturing activity released at 9:45a.m. ET.
A person familiar with the matter said a criminal probe was being conducted by the U.S. Justice Department on whether the world's biggest banks manipulated a global benchmark rate.
Several major global banks, including Citigroup (C.N), HSBC Holdings (HSBA.L), Royal Bank of Scotland Group (RBS.L) and UBS (UBSN.VX), have disclosed that they have been approached by authorities investigating how Libor is set.
Goldman Sachs (GS.N) and Wells Fargo (WFC.N) both said on Tuesday they may face federal enforcement action related to mortgage-backed securities deals leading into the financial crisis.
An injunction to suspend the Brazilian operations of oil major Chevron and offshore oil-rig contractor Transocean over a November oil spill northeast of Rio de Janeiro has been declined by a federal judge in Brazil.
A faster, better-equipped version of Apple's (AAPL.O) popular iPad tablet is expected to be unveiled at a media event next Wednesday to thwart increasing competition from deep-pocketed rivals such as Amazon.com Inc (AMZN.O).
BP (BP.L) is seeking to settle a lawsuit over the massive 2010 Gulf of Mexico oil spill by tapping a $14 billion fund it set aside to compensate fishermen and businesses harmed by the disaster, lawyers familiar with the talks said.
JPMorgan Chase & Co (JPM.N) Chief Financial Officer, Doug Braunstein, said the bank aimed to lift profits by 25 percent and was targeting an annual net income of $24 billion, up from the $19 billion it earned last year.
The Wall Street Journal reported that U.S. federal authorities are investigating David Loeb, a managing director of Goldman Sachs Group Inc (GS.N), as part of an insider trading probe focusing on technology stocks and the company's hedge fund clients.
Strong consumer confidence data and a fall in oil prices boosted the Dow to close above 13,000 for the first time since May 2008 on Tuesday and also led the S&P 500 to hit a milestone.
The Dow Jones industrial average .DJI gained 0.2 percent, the Standard & Poor's 500 Index .SPX rose 0.3 percent and the Nasdaq Composite Index .IXIC climbed 0.7 percent.
REUTERS