GOWON FOUNDED EZE NDIGBO IN DIASPORA, NOT OJUKWU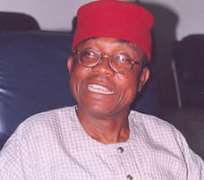 Ogbuefi Ray Ifeme is a culture enthusiast and a communication expert. In this brief chat, he talks about the best way to remember Ojukwu and the cultural errors already committed before Ojukwu's burial.
When and where did you meet Ojukwu?
I was not in the Biafran Army proper. But I met him in Uguta when I went to visit my uncle, who was in the Biafan Army. Ojukwu was visiting them that day. I went to him and paid compliments. He said 'small boy, what are you doing here?' I said I wanted to fight and catch Gowon. He laughed and said 'you won't do it alone.' He then handed me over to Major Udekwe of the Biafran Organisation of Freedom Fighters.
That was how I joined them. We worked under Colonel Akonobi. I was the one who brought the late Oliver De coque to play music for the boys.
After that initial meeting, did you encounter Ojuwku any more?
When he came back from exile, I was one of the first few people that met with him after Igbo traditional rulers gave him Dikedioramma title. I was opportuned to go and meet him with Oliver. I was also going to meet with him at his former house in Enugu. It is very easy to visit Ojukwu's house without a car. If you come with a car the security men will question and delay you but one thing I noticed was that nobody came there that he did not see.
You said earlier you have a problem with the statement made by Eze Ohazulike in Lagos that it was Ojukwu that started the concept of Eze Ndigbo in the Diaspora. What is your problem with that statement?
To start with Eze Ndigbo in the Diaspora was alien to our people initially. We used to have Igbo leaders like the late Okonkwo Kanu, taking charge of the North, Ojukwu's father was the overall Igbo leader. It was Gowon that created the concept of Eze Ndigbo in the Diaspora. During the war, he appointed one chief Mba, popularly known as Mallam Issa Mba, to take charge of the North. He was called Seriki Ndigbo. After the war, one Chief Ogbunafor from Nawfia, a popular hotel proprietor, declared himself Eze Ndigbo in Sokoto in 1976 or thereabout. We also had Chief Nwalusi as Ezeigbo in Kano. Nwalusi and Okonkwo, who was Eze Ndigbo in Katsina both took the title in 1980.
Ohazulike brought the institution to the South-west. He brought life to it, in fact, politicised it. He formed the Association of Eze Ndigbo in the Diaspora with Eze Pampas of Minna as Secretary General. You know that Ilomuanya and his team fought them over the matter, they said they should not bear the name Eze Ndigbo. Ohazuliike also fought our traditional rulers thereby making a mockery of the institution
But he said it was the late Ojukwu that endorsed Eze Ndigbo?
Ojukwu never endorsed any such concept. Since Ikemba died, people have been saying all kinds of things. The truth is that Gowon is the original creator of that concept. It was Ohazulike who brought it to the Southwest.
Recently Eze Nri said he had installed MASSOB leader as the new Eze Igbo Gburugburu and you said it was a wrong move.
Why did you say so?
Let me first say that I have nothing against the MASSOB leader. In fact, MASSOB has given a voice to Igbo people. But I am also a culture enthusiast and leader of a cultural organisation. For now, Uwazurike does not need a title. What he needs is support of the Igbos. Now Eze Nri should not have installed him because he never installed ojukwu in the first place. It was at a birthday party organised for Ojukwu by Ohazulike that Ohazulike pronounced Ojukwu as Ezeigbo Gburugburu. On that occasion Ohazulike said of all the people bearing Ezeigbo, Ojukwu was the greatest. That was how Ezeigbo Gburugburu came into being. I was there when it happened.
I am not against anybody, making Uwazurike Ezegburugburu. I respect Eze Nri, he is a highly respected royal father. With due respect to him, I am disappointed that he forgot about our culture in this matter. No where, especially in Igbo land, do you appoint a successor to a man, who has not been buried. It is after the burial rites that you install a successor. He might have done it to stop any other person from taking the title but it is wrong in terms of culture. I am the founder of Omenanigbo Promoters Association and our members are not happy. They should have waited for Ojukwu to be buried first.
How do you want Ojukwu to be remembered?
All we need to make him rest is for Igbos to live in unity. But the most important is for the Nigeria to allow an Igbo person to become the president of the country. That way, Ojukwu will rest in perfect peace.