Reps Set To Reform Nigerian Customs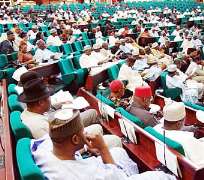 ABUJA, February 28, (THEWILL) - The House of Representatives on Tuesday began the process that would reform the Nigeria Customs Service by passing, for second reading, a Bill to repeal the existing Customs and Excise Management Act (CEMA). The Bill, when amended, will give a legal framework to the Nigeria Custom Service (NCS) in order to allow it enforce and discharge relevant laws and functions without inhibition.
In approving the amendment for second reading, the lawmakers cited defects in the current CEMA Act. In detail and scope, the Bill is for an Act to repeal the Customs and Excise Management Act. Cap. C45, Laws of the Federation of Nigeria, 2004 and other Customs and Excise Laws; to establish the Nigeria Customs services; reform the administration and management of customs and excise in Nigeria; and for other related matters.
Deputy Majority Leader, Hon. Leo Ogor (Delta/PDP) who led the debate, argued that the Bill's passage is long overdue. According to him its successful passage will enhance revenue generation of the Customs Service, which is presently the second highest revenue earner for the federal government after the downstream sector.
"At the sub-regional level, the Bill will ensure better trade facilitation with other West African countries in line with existing trade treaties to which Nigeria is signatory. Nigeria is currently ranked 146 out of 183 countries surveyed by the World Bank on the international flow of trade," he observed.
Also supporting the Bill, Hon. Andrew Uchendu (Rivers/PDP) questioned the rationale behind the appointment of the Minister of Finance as chairperson of the Governing Board of the Nigeria Customs Service. To him, the present arrangement encourages crippling bureaucratic bottlenecks in the administration of the Service.
Only last year, representatives cancelled a controversial concession of a key import and export clearing documentation services contract to Single Window Systems and Technology Limited, as entered by the Federal Ministry of Finance on behalf of the Customs Service. But the lawmakers had insisted then, that the concession deal, hatched under the watch of former Finance Minister and current Minister of Trade and Investment, Olusegun Aganga, stood to rip off the national treasury by over $30 billion.