Call For Sovereign Conference Is Recipe For Anarchy - Senate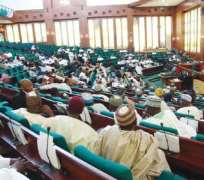 ABUJA, February 28, (THEWILL) - The possibility of the convocation of a Sovereign National Conference (SNC) any time soon was on Tuesday dealt another blow as the Senate again restated its opposition to it, despite rising show of support from prominent Nigerians. It described growing calls for the Conference as "a recipe for anarchy."
The upper chamber also declared its backing for simultaneous probing by the two chambers of the National Assembly on the management of fuel subsidy fund so long both complement each other.
Addressing a press conference, Senate spokesman, Senator Enyinnaya Abaribe, said the National Assembly was not afraid of discussing any issue, neither was it against any forum where national issues are discussed. But he emphasised the need to follow the stipulations of the 1999 Constitution and its stated methods of amending the constitution.
"The National Assembly is not against any forum where national issues are discussed. But since we are all working under the 1999 constitution, we must follow it properly," he said. "Section 9 of the constitution is explicit. So, whatever you want to change in terms of amending the constitution to meet whatever reality you want, you have nowhere else to go except to bring it to the Constitution Review Committee through your member in the House or your Senator."
He branded as a "misnomer," widespread suggestions that the National Assembly is afraid of the SNC. "What we say actually is that if you say there are some persons somewhere who will write something else as constitution, then what obtains is that the person has no confidence in the present democratic set up.
"Anybody who does not have confidence in the present democracy is seeking anarchy. And when people make assertions of that nature, we do not have anything to say other than that if you are a democrat, then you seek democratic ways for effecting change. We do not understand: the calls are coming as if there is more to it," Abaribe said.
He also spoke on the probe of management of fuel subsidy funds by both legislative chambers. "When a senate committee embarks on function, it is through the mandate of the whole Senate. The probe on oil subsidy by the Senate Committee on Petroleum Resources downstream arose out of a motion that was sponsored by Senator Saraki and others alleging the mismanagement of subsidy. The probe was first started by the Senate so it cannot abandon it."