Delta Speaker Installed Patron Of NUJ; Wants Online Media In Nigeria Regulated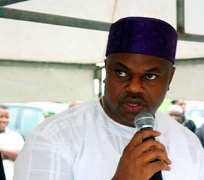 …Urges Journalists To Focus On Issues That Will Unite Nigerians
ASABA, February 28, (THEWILL) - The leadership of the Nigerian Union of Journalists, NUJ, has been asked to liaise with other stakeholders to regulate the activities of online media practitioners in the country.
The Speaker of the Delta State House of Assembly Rt. Hon. Victor Ochei who made the appeal in Asaba Monday while being conferred with the Patronship of the Union in the South South said the activities of some of them have been embarrassing and devoid of truth.
Rt. Hon. Ochei said online media if not properly handled could be used as a tool by unprogressive Nigerians to destabilize the country and spread falsehood.
He said some people have used the media to settle scores and propagate lies that have damaged relationships as well as the image of the country.
The Speaker called on the South South zone of the NUJ led by the Vice President, Comrade Pius Ede to rise to the challenge of adequately publicizing the zone through developmental journalism.
He urged journalists in the zone to concentrate more on issues that would bind the people of the Niger Delta and Nigerians in general together other than on matters that would tear them apart.
The Vice President of the South South zone of the NUJ, Comrade Pius Ede said the Speaker was chosen as a Patron because of his humanitarian contributions to the society.
He identified Rt. Hon. Ochei's invaluable contributions to the Nigeria Wheelchair Basketball Federation, revision of scholarship to indigent students through the Ochei Foundation and donation of buses to schools in Delta State as some of his humanitarian gestures that are worthy of emulation.
The investiture ceremony was witnessed by Chairmen, Secretaries of the Edo, Delta, Akwa Ibom, Cross River, Rivers and Bayelsa State councils.