ACN Condemns Panel On Ekiti Judgement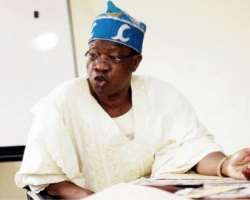 ACN NATIONAL PUBLICITY SECRETARY, ALHAJI LAI MOHAMMED
LAGOS, February 27, (THEWILL) - Action Congress of Nigeria (ACN) has kicked against the setting up of a panel to review the judgement of the Court of Appeal on the Ekiti governorship election, warning that it can only discredit the judiciary and destabilise the polity.
In a Monday statement issued in Lagos by its National Publicity Secretary, Alhaji Lai Mohammed, the party charged all believers in the rule of law to intervene in the "circus show." It recalled that an erstwhile panel of enquiry had cleared the then President of the Court of Appeal, Justice Ayo Salami of any wrongdoing, following a petition by Mr. Segun Oni, the former governor who was ousted by an Appeal Court ruling.
"What do those who instigated the setting up of the review panel on the Ekiti judgement want to achieve? Is there a precedent in this regard? Does it mean that once a litigant is dissatisfied with any judgement, even at the Supreme Court, he can get such a ruling to be reviewed once he has the 'right' connections? At the time the judgement was given, was the Court of Appeal not the final court in the governorship election petition?" the party asked.
The party said it was particularly worried that while Oni may be the face of this unprecedented assault on the judiciary, he is a mere puppet in a bigger circus show, and the puppeteers are the PDP and the federal government it controls.
"Only last week," the statement further read, "we had a reason to warn against what seems to be a calculated attempt to destroy the judiciary - an institution that has been built over the years, just because the PDP lost two governorship seats in Ekiti and Osun. We are compelled to issue the same warning now over the panel set up to review the Court of Appeal judgement in Ekiti."
It further pilloried the ruling Peoples Democratic Party, saying its loss of two governorship seats in states where it had stolen the people's mandate is no licence for the party and its powerful backers to bring down the roof on forthright judges.
''Honestly, we at the ACN are not really bothered about Oni.... But our real concern are Oni's masters, his puppeteers who are hell bent on using him to humiliate judges who would not do their bidding, and then destroy the judiciary in the process. This is why we are crying out now,'' ACN said.
The Action Congress of Nigeria has itself been on the end of opprobrium from the public, many accusing the party of 'purchasing' favourable judgements at governorship election petition tribunals.