Photos – 50 Cent Visits Somalia and Kenya to Help Feed the Poor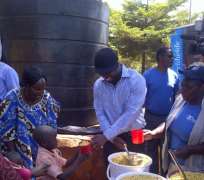 Rapper Curtis '50 cent' Jackson is teaming up with the World Food Program to see firsthand the effects of hunger in Somalia and Kenya.
The rap star flew to Dolo, Somalia on Wednesday. United Nations World food program said the rapper has committed to provide 1 billion meals for the hungry, and is donating to WFP 10 cents from every sale of a new energy drink called Street King that he is promoting.