Reps Want Sacked Mainstreet Bank Employees Recalled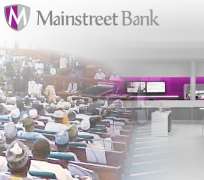 ABUJA, February 21, (THEWILL) - The House of Representatives Tuesday asked the management of Mainstreet Bank (formerly AfriBank) to recall all its sacked staff.
Issuing the directive on behalf of the House leadership, at a meeting with the bank, chairman of the committee on legislative compliance, Hon. Moruf-Akinderu said the action of banks management was done in bad faith. He said the procedure adopted in the disengagement of the staffers was not transparent restating that it cannot stand.
According him, the staffers were relieved of their position because they raised the alarm on some under-table deals perpetrated by some individuals when the bank was still known as Afribank.
He said the evidence before the committee clearly showed that the people who were sacked comprised mainly of staffers who publicly alerted on what was going on in AfriBank.
Defending the need for the exercise, a representative of the bank, Dauda Momoh said the sack of the staffers was not done out of witch-hunt but purely for economical and management reasons.
He explained that Mainstreet bank is a new bank operating with a new license.
He pleaded with the committee to see reason with the management of the bank in the sacking of its former employees.