PEACE ADVOCATE AT THE THRESHOLD OF HISTORY -NWANGWA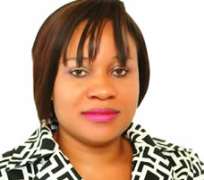 •Nwangwa
Barrister Ngozi Nnenna Nwangwa grew up in an atmosphere full of peace and love .The last of ten children, she was always full of life and her good looks and charm got people attracted to her.
Although she had chosen to study law in University, her real passion was to assist the downtrodden members of the society as well as helping in enthroning peace in her restive community, Ngwa. An abduction and near death encounter by a gang of armed robbers during a trip in 2005 reinforced her decision to go into full-time advocacy. Today she is an apostle of peace which she spearheads alongside her NGO, the Youths and Women Rehabilitation Initiative (YAWRI). The movement started in 2008 after her political experience in Abia state.
In a chat with Daily Sun, she spoke about the forthcoming peace festival her NGO in collaboration with some community -based organisations in nine local councils in Abia State is organising on Febuary 24th, 2012 in Aba, to further drum the message of peace in the once restive city.
Excerpts:
How was life growing up?
I am the last child of a family of ten.My mother is a farmer, while my father, a teacher died 21 years ago while I was in secondary school. With many elder brothers and sisters, life was a bit challenging for me. I was always bossed around, running most of the errands but most of times, I was also cuddled as the baby of the house.
What is your message to Nigeria?
We need to preach peace and love to one another, if there is no peace, there will be war. I am a mother and I want peace for my children because whatever happened at home translates to the national level. Charity they said begins from home. Let us talk about peace, there is need for the president to convene a peace conference in order to check the incessant human wastages in the country, because what we have now is war, like what we experienced in Aba then. Now it is with Boko Haram, so we are at war.We need to talk so much more about peace in Nigeria.
Can you shed more light on your Peace campaign?
After my political experience, I decided to fulfil my mission to my people through my NGO. During my campaigns, I promised my constituency that whether I was voted in or not, I will do something to touch their lives positively.
Through my NGO, YAWRI , i believe that peace is a pre-requisite for development.
We have started preaching peace in my area, starting from Abia State and we intend to take it to the national level. We believe that women and youth cannot be actually rehabilitated in an atmosphere devoid of peace, that is why we decide to start with the peace initiative.
About the Peace Festival
The peace festival is a platform being used by the NGO to reach out to the people in order to bring the message of peace ,bearing in mind that Aba had been one of the areas in the country where youth restiveness was on the increase.
We cannot talk about rehabilitation without transformation, peace and empowerment. We have to start imbibing love and peace before people can listen to rehabilitation talk. We need to talk people out of being the aggressive monsters they think they are, there should be a loving and peaceful person before any tangible rehabilitation can take place. We all need one another to survive on earth. A peace movement is what we are starting before transforming and re-equipping the people, Aba zone has been a volatile place for crimes
in recent times, the youths had been vulnerable because they have nothing to do, the state government is trying but we will not leave everything for the government alone .
The preferred choice fro this peace movement was actually January 20 ,but for the obvious labour strike it was shifted.The date January 20th is a date significant to us because on that day, a panel of enquiry for the Aba women riots of 1929 was set up, by the government even though the report of that enquiry never come up. It is significant because the women protested then, but women are not in protest now, we are now talking about peace. We should encourage women for peace, and we have rallied around 10 community based organizations working under the platform of YAWRI to preach peace in Ukwa Ngwa axis, they should be supported, because it is an epoch making event and a rallying point for anybody that likes peace.
The Ukwa-Ngwa axis is comprised of nine local councils in Abia State, made up of , Isiala Ngwa North and South, Osisioma, Obi Ngwa , Aba East and South, and Ukwa West and East. So we are poised to start something that will metamorphose into a bigger thing in future. The event will cover peace talks, cultural display, traditional wrestling, beauty pageant showcasing ladies from all nine local councils in their traditional attires. We also intend to host a fund raising event, it is an annual event in which we intend to build a women development centre in Aba, and cooperatives for women and others.
We hope to spread it to other local councils in Abia state, so that the state will be known as a peaceful state and possibly to other states then hopefully a National event.
What is your motivation?
My biggest motivation came from my mother-in-law, As a young girl in marriage, there are many stories about Mother's in-laws and their tendencies to dictate what happens in the home and against that background, opinions and biases are formed. I was skeptical at first whenever i spent time discussing with my Mother In-law and she told me that if she had the opportunity of education and good nature like me, she would have become the first female president of Nigeria. As time went by, I realised that challenge and combination of other factors such as my shy and extremely very quite disposition (which I have outgrown presently). My mother-Law's challenge became my personal appraisal yard stick. Unfortunately she did not live long enough but I will keep on trying to establish her prophecy not just in Politics but in everything I do.
Can you give us insight into your marriage?
Yes, I married at 20 years as a second year law student. I was not born with either Golden or Silver Spoon but from a humble family. The death of my Father and eldest brother affected me so much and the hope of achieving my dream of good education was in a loose balance with 4 options to choose: (a) Drop out of school and see if I could get any job with my secondary school certificate and maybe there could a latter opportunity in life (b) Indulge in what girls in our time were doing to train myself (c) Pray for help from God.
I prayed and sometimes ended up crying at the blink future but God did answer my prayer at that very time and I mean ,my husband who at that time was looking for a wife from our area. Meeting my husband was by chance or I believe it was arranged by God. He came from Lagos on Christmas Vacation to see his parents and was at the village field to watch a match ,there he saw me there and made an effort to trace me through my relation. He proposed within 3 months without courtship, he understood all my concerns and fully appreciated my plight, he agreed to squeeze my education into his regular paid job salary. The rest they say is history. I am a strong advocate of young girls weighing their chances in life and making good decisions when the need arises. There are many options as I mentioned earlier but the decision or choice you make in life defines your personal trait or tendency.
All about your NGO
My NGO, the Youths And Women Rehabilitation Initiative (YAWRI), started in 2008 after her political experience in Abia state. I had contested for the position of a House of Representative member for Obioma Ngwa, under the platform of the All Nigeria Peoples Party (ANPP), but did not win. The NGO was then started to reach my people , whom i had promised to affect their lives through my representation in the house. So the NGO was established to make an impact to my followers and supporters as well as to do some charity works and make some impact to their lives positively.
Expectations for the peace festival
My team and I have worked round the clock to package this epoch making peace festival event. It is going to be the first of its kind in the entire UKWA-NGWA area. Youth and women from the local government areas of the land are ready to thrill and entertain our guest and visitors with various cultural shows and side entertainments and displays. Virtually all custodians of our culture and tradition (His Royal Majesties and Highnesses) will be there, all the highly placed and notable sons and daughter of the land from far and wide will grace the occasion. It is going to be a unification tool of our cherished identity. Every Son and daughter of Ukwa- Ngwa and our friends will come to usher Peace to our land. On the other hand, the Vision of my NGO is to rehabilitate youth and Women and the event will give the desire leverage to launch the objectives of the NGO. We have planned to build a Youth and Women Rehabilitation Centre.
Already programmes of the Center have been articulated and ready for take-off as soon as we have the sponsorships expected. As we speak, some public spirited personalities are ready to help these Youth and women and have made promises in advance including Greg Iyke Foundation (GIF).A foundation that has already done many wonderful things in Abia State..