Hippopotami Frighten Residents, Cripple Fishing, Farming In Lokoja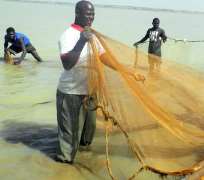 SAN FRANCISCO, February 20, (THEWILL) - Fishermen and farmers in Kpata, Adankolo and other communities along the bank of River Niger in Lokoja are now having a raw deal with some giant hippopotami that have constituted a menace to fishing and farming in the area.
The hippopotami, which are said to be black and brown in colour, NAN gathered on Monday in Lokoja, have been destroying rice farms along the riverbank and also hampering water navigation.
Alhaji Abdulahi Gimba, the Chairman of the Nigerian Union of Fishermen and Seafood Dealers in Kogi State confirmed that the animals suddenly appeared in the Onumaye-Kpata-Adankolo section of the river in December last year.
Since then, Gimba said that those things have never been the same for fishermen, farmers and boat engine operators in Lokoja and its environs.
He said that the animals had made fishing activities virtually impossible while farmers can no longer cross the river to their farms, saying that the people of the area now live in fear.
Although, Gimba said that the river had been known for long for harbouring hippopotami but said that this is the first time the animals will foray into the Onumaye-Kpata-Adankolo section, saying that the recent dredging of the river might have attracted the animals to the area.
He said that fishermen, farmers and boat engine operators now rely on their mobile phones to send warning signals to each other anytime the animals were noticed be in the river.
The Chairman said that the development had led to an increase the prices of fish and stated that rice production in areas might be badly affected this year.
He appealed to the management of the National Inland Waterways Authority, the state and Lokoja local governments to come to their rescue by getting rid of the animals.
The Chairman of the state chapter of River Water Transport Association, Alhaji Bala Yaro also said that his members were afraid of putting boats on the river since the day it was noticed that the animals were chasing the boat engines.
He described giant hippopotami as very wild, saying that the animals with their different big sizes can upturn any engine boats.
Yaro said that he had directed his members to operate with caution so as to prevent disaster, especially since the majority of their clients are women traders and school children.