FG SEEKS INTEGRATED SOLUTION TO PROBLEMS OF REFINERY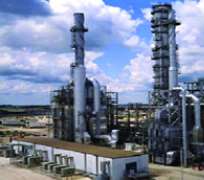 The Federal Government has advocated an integrated approach to tackling the refinery problems to ensure maximum output within the shortest possible period.
According to the Minister of Petroleum Resources, Mrs. Diezani Alison-Madueke, the government's resolve is a determination to ensure that the perennial challenges facing the nation's traditional refineries of Port Harcourt, Warri and Kaduna were resolved once and for all.
The minister recently constituted a task force to review the operations of the refineries, with a view to establishing efficiency and commercial viability. However, pushing the refinery rehabilitation drive a notch higher, Mrs. Alison-Madueke, during an inspection tour of the Warri Refining and Petrochemicals Company (WRPC), charged the managers and workers of the 34-year-old plant to join forces with all stakeholders, as the Federal Government seeks to address the problems plaguing the nation's refineries in a holistic manner?
'While we pursue the challenge of improving refining capacity we must understand the various components of what we need to do to ensure that our drive to making our refineries efficient and profitable comes to fruition,' the minister stated. Describing WRPC as one of the nation's most important oil and gas facilities, the minister saluted the courage and commitment of workers who through the years defied the odds to keep the plant running.
She noted that the revitalisation plan would not only target the equipment but will also focus on improved manpower development through sustainable skill and professional upgrade exercise both at home and abroad for the operators of the plant. Welcoming the minister, Managing Director Simeon Ehiemua lamented the incidents of pipeline vandalisation as well as the growing cases of robbery attacks and kidnap of WRPC personnel.
Giving a breakdown of recorded cases of attacks on the crude supply as well as product evacuation pipelines, Ehiemua stated that the activities of pipeline vandals pose a massive threat to the operations of the refinery. 'In 2011, we recorded 39 breaks on the 68km crude supply pipeline from Escravos to WRPC. These include seven blast points, 30 valve insertions and two nipple plantings,'' he said?
To mitigate the effect of these attacks, the WRPC arranged a backup supply of about 30,000 barrels of crude per day through marine vessels. The situation was even more compounded in the product evacuation pipeline as a total of 91 hack saw cuts and 20 valve insertion