Jonathan, Mark Hail Wamakko On Poll Victory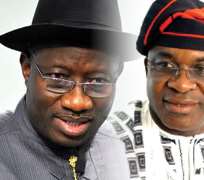 SAN FRANCISCO, February 19, (THEWILL) - President Goodluck Ebele Jonathan and Senate President David Mark have both congratulated Alhaji Aliyu Magatakarda Wamakko on his victory in Saturday's governorship elections in Sokoto State.
President Jonathan said he "welcomes Alhaji Wamakko's re-election for a second term by a clear majority of registered voters in Sokoto State as a manifestation of their continued faith in the Peoples Democratic Party (PDP) and their satisfaction with the performance of the Wamakko Administration during his first term in office."
The President in a statement by spokesman, Dr. Reuben Abati, urged Alhaji Wamakko to seize the opportunity of the fresh four-year mandate which he has been given by the people of Sokoto State to continue the very laudable development programmes, especially the popular rural development schemes that were initiated during his first term which have had a very positive impact on the populace.
President of the Senate, Senator David Mark, in his message to Wamakko noted that the election was a manifestation of the peoples' trust and confidence in his leadership. He therefore implored the governor-elect and his team to map out strategies for the overall transformation of the State adding that his re-election should be seen as a platform to further strengthen the peaceful co-existence and unity within the State and beyond, a statement from Mark's spokesman, Mr. Paul Mumeh said.
While encouraging the governor-elect to bring everybody on board in the task of developing the State, he, in like manner urged the losers in the election to accept the result in good fate and cooperate with the winner in the interest of the people of the State.
"You have all done your best and the majority of the people of Sokoto State have decided. Besides, only one governor will be on sit at a time. All hands must be on deck in order to consolidate the gains of the past and move the State to greater height, " Mark said.
He told Wamakko to build on his past foundation that would improve on the infrastructural development of the entire State.