RETIRED JUDGES NOW BUY JUSTICE -NBA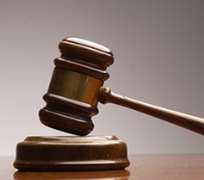 The Nigerian Bar Association (NBA) threw a bombshell at the weekend  when it accused some senior members of the legal profession, including retired justices,  of working as agents of corruption in the judiciary, especially with respect to election petition cases.
Speaking at the valedictory session held in honour of the late Justice Anthony Aniagolu at the Supreme Court Complex Abuja, President of the NBA, Mr. Joseph Daudu, who made the disclosure before the justices of the Supreme Court, said some senior lawyers and retired justices parade themselves as consultants  in election petition cases for incredible sums of money, so as to act as conduit pipes between his client and the election court.
While expressing concern over the development, Daudu  revealed that the NBA would, in due course, inaugurate an anti-corruption commission to counter the menace.
He said: 'Sadly, it is no longer a moot point that the corruption that encompassed the larger society has infiltrated the justice sector. I make no distinction here between the Bar and the Bench. Corruption is now a live issue that is threatening to tear apart the foundations and fabric of the society.
'We are no doubt aware that some of our colleagues, including very senior counsel and at times eminent retired judicial officers go about offering their services as consultants, particularly in election cases, for incredible sums of money, so as to act as conduit between their client and the election court.
'The end result is to facilitate ready-made justice for persons they are acting for. We must strongly deprecate this practice. Our members and the public should feel free to avail themselves of this NBA anti-corruption body.'
Daudu said that the NBA's anti-corruption commission would identify members of the profession who engaged in corruption within the justice system, adding that names of such culprits and evidence of corrupt practices would be forwarded to relevant agencies for prompt action.
He also said that lawyers who file frivolous cases and application should be prosecuted.
'I have approached the Attorney-General of the Federation to call a meeting of the General Council of the Bar so that, inter alia, the existing rules of professional ethics can be amended to include such areas that will safeguard the dignity of the courts and integrity of judicial process,' he added.
Earlier, the Chief Justice of Nigeria, Justice Dahiru Musdapher, had described the late Justice Aniagolu as a distinguished, just and a gentleman, who was bestowed with remarkable intelligence and knowledge
.