SPIRITUAL WEAPONS TO SOLVE POLITICAL PROBLEMS (1)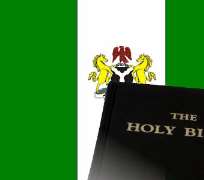 Is there anything Christians can do when there is corrupt and evil government leadership? Is there anything they can do when their churches are controlled by greedy and immoral men? The answer is, 'yes'. Christians may have to suffer persecution for their faith in Christ, but there is something God wants them to do when evil leaders oppress and destroy nations. More important, the church should not tolerate arrogant and corrupt church leaders. There are actions which the church can take to change the situation. But God's people must understand that both in national governments and in church governments, corrupt officials do not give their position of power and influence without a fight. Renewal can be a long and difficult process. It is very important for Christians to understand that he battle they fight is not a physical struggle but a spiritual war. The Bible says, "For though we live in the world, we do not wage war as the world does. The weapons we fight with are not the weapon of the world. On the contrary, they have divine power to demolish strongholds" (2 Cor. 10:3-4). What are the spiritual weapons with which Christians can fight to overcome strongholds of evil influence? What is the strongholds?
There are seven spiritual weapons mentioned in Ephesians chapter 6. These are truth, righteousness, the gospel of peace, faith, salvation, the word of God and prayer. Some of these weapons, such as righteousness and salvation, can be considered defensive weapons since they are intended to protect the Christian. Others, such as the gospel of peace, the word of God and prayer can be considered offensive weapons because they can be used to overcome the forces of evil. The weapon of the faith can be used both defensively, together with prayer, to overcome the works of Satan. Concerning the weapon of prayer, God specifically commands us to pray for government leaders. Paul wrote, 'I urge, then, first of all, that requests, prayers, intercession and thanksgiving be made for everyone – for kings and all those in authority' (1 Tim. 2:1-2). Since God had given his people the command to pray for government leaders, should be clear that he intends to use their prayers to change things in the government which are wrong.
What are strongholds? In the Old Testament, a stronghold was a fortress. It was a place where people or soldiers could hide from the enemy or from which they could attack those opposing them without fear of being overpowered themselves. King David hid in a 'stronghold' (probably a cave) in the Israeli desert when he was hiding from King Saul and from the Philistines (e.g. 2 Sam. 5:17). For the true Christian, God is his or her stronghold or fortress. The Bible says, 'The LORD is my rock, my fortress and my deliverer; my God is my rock, in whom I take refuge. He is my shield and the horn of my salvation, my stronghold' (Ps. 18:2). When we consider 2 Corinthians 10:3-4 in the light of these uses of the word 'stronghold' in the Bible, it is evident that the strongholds referred to in this verse are 'places' (that is, institutions, or policies, or practices or attitudes, or beliefs, or possibly individuals or groups of individuals) in which Satan or evil hides or from which Satan attacks the society for his own evil purposes. Thus an evil practice (such as bribery or female circumcision or homosexuality) or an evil government policy (such as the policy of ethnic genocide recently practiced by the Yugoslavian government) could become a stronghold of Satan. The fact is that many wars are powerful strongholds through which Satan is able to effectively carry out his evil purposes of death, suffering and destruction against humankind.
On a more personal level, an attitude of pride by an individual or a group of people can be a very effective and powerful stronghold of evil. For an individual or even a whole nation, a preoccupation with sexual lust or self-indulgence can become a stronghold of evil through which Satan can carry out his evil intentions to morally destroy individuals, the ministry of Christian workers, or even whole nations. This strategy of Satan is working very effectively in certain part of the world today, especially in the West. Pride, the love of power and the love of money are probably the three most powerful strongholds of evil in the lives of political leaders and in the lives of many church leaders as well. According to the word of God, it was pride which brought the downfall of Satan (1 Tim. 3:6). So it should not surprise us that pride is such a powerful stronghold of evil in the lives of corrupt leaders today.
The devil has not changed in his character. He still brings some of his most effective temptation of human beings through pride. Perhaps the greatest danger of pride is that we do not take it as seriously as we do sins in the areas of money or sex. Pride seems harmless until we religious leaders of Jesus' day brought Jesus strongest words of condemnation. He actually promised the Pharisees they would go to hell for their pride (Mt. 23:33). In the book of Proverb we are told, 'Pride goes before destruction' (Prov. 16:18). If we think about this, it is not hard to understand the great evil that lies behind pride. Pride is the evil force behind tribalism, a great curse that has caused the death of literally millions of Africans in our generation. Pride is often what makes entire nations go to war with each other. Pride is the hidden reason for fighting and division in churches. Such fighting can destroy the witness of the church in a community. Pride is a powerful stronghold in the lives of many human beings and in many Christians as well. The Bible tells us over and over again that God hates pride (Ps. 101:5; Prov. 6:16-17; 8:1321; Jas. 4:6).
The Bible tells us that we must humble ourselves before God (2 Chro. 7:14; Zeph. 2:3; Jas. 4:10; 1 Pet. 5:6) Another stronghold of Satan in the lives of many people is the desire for power and the love of money. The desire for power and the love of money are the things that motivate many people in the present world system of values. This particular stronghold also includes the love of material things (materialism) and the love of self (1 John 2:16). Another very powerful stronghold is sexual lust. How many church leaders in our time have destroyed their ministries, their marriages, their families and their ministries through sexual lust, immorality and adultery? Not done, read part of this series. Have question, you may call: 08055059656, or write: [email protected] Stay blessed.
Written By Dr. Lewis Akpogena

Disclaimer:

"The views/contents expressed in this article are the sole responsibility of

thewillnigeria.com

and do not necessarily reflect those of The Nigerian Voice. The Nigerian Voice will not be responsible or liable for any inaccurate or incorrect statements contained in this article."
Articles by thewillnigeria.com