Kogi: Supreme Court Throws Out PDP's Application For Consequential Order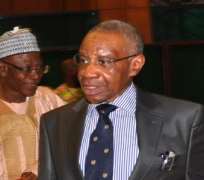 ABUJA, February 16, (THEWILL) – The application filed by the ruling Peoples Democratic Party (PDP) at the Supreme Court seeking a consequential from the apex court in respect of its landmark judgement that sacked 5 state governors on January 27, 2012 has been dismissed.
Recall that the PDP had filed an application on February 01, 2012, urging the apex court to make a consequential order giving direction after the landmark ruling, especially for Kogi State following the confusion that arose in the state as a result of the ruling – the Speaker of the House and a governor-elect were both sworn in to fill the vacancy created by the ruling until INEC intervened insisting that then governor-elect Idris Wada is the authentic governor having won a previous election conducted in December 2011.
The states affected by the ruling include Adamawa, Bayelsa, Cross River, Kogi, and Sokoto.
Leading a panel of seven (7) eminent justices, the Chief Justice of Nigeria (CJN), Justice Dahiru Musdapher said the justices unanimously agreed to dismiss the application because the application was not part of relief sought when the appeal was first filed at the apex court.
"We were not asked to make any order neither did the applicant file a cross-appeal to request for it when the appeal was brought before us," Musdapher said.
The CJN said that for a consequential order to made it must arise from the relief sought abnitio.
Musdapher recalled that the five governors went to the Federal High Court asking it to hold that their tenure started to run from their second oath of office and oaths of allegiance.
He further noted that the governors' suits were upheld and were also affirmed by the appeal court until the judgements of the two courts were upturned by the Supreme Court.