Bayelsa's Dickson Dissolves Cabinet, Freezes State Government Accounts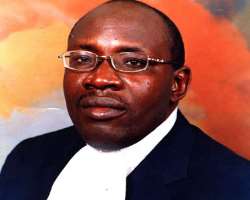 GOVERNOR HENRY SERIAKE DICKSON
LAGOS, February 16, (THEWILL) - Barely 24 hours after he was sworn in as Bayelsa State Governor, Henry Seriake Dickson Wednesday dissolved the state executive council, sacked the boards of all state parastatals and froze all state government operated accounts in banks with immediate effect. All state's financial transactions were also halted.

A statement from Dickson's Senior Special Assistant on Media and Public Affairs, Mr. Daniel Iworiso-Markson, directed all affected officials to hand over all government assets in their possession to the permanent secretaries or the most senior officer in their various ministries.

Meanwhile, the new Governor has assured Bayelsans of transparency, accountability and fairness as he begins his first tenure as governor of the oil rich state. Dickson also promised to tackle corruption in his government saying, it is one his cardinal objectives.

The governor assured that state funds would be well utilized and used to fund road constructions, education, agriculture and other critical projects, whilst also promising to construct 3 senatorial roads as part of his restoration agenda for the state.