"African Models Have What It take To Be At The Top"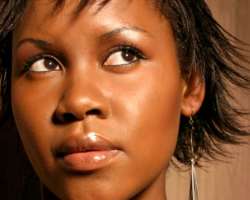 Rosemary Chileshe is Zambia-born international model living and working in the United Kingdom. A highly sought-after international model whose face adorns several products 'marketing efforts. As one of the faces of Sleek cosmetics her image has been used worldwide and she successfully led Sleek Campaign in Ghana for the country's 50th Independence Anniversary. Rosemary is spokesperson for many brands.
She won the 2003 Miss Zambia UK beauty pageant. She represented Zambia at the Miss World Beauty Pageant 2004 hosted in China. Rosemary; she was this year's Zambian envoy to Miss Universe 2007 Beauty Pageant, held in Mexico City, 28th May 2007. She's been actively involved in charitable work as well as promoting the image of her mother country - Zambia. Outside her modeling commitments, she continues to utilize her influence as a goodwill ambassador with a solid foundation to help the fight against HIV/AIDS and poverty worldwide, with particular attention to Zambia. In July, 2007-Rosemary, Carl Ellis - a fashion designer and Miss Universe Zambia Team visited Orphanages - Kalingalinga (Lusaka). She also addressed an international audience at a Commonwealth Forum to commemorate World Aids Day 2006.
The story of this young Zambia star actually started as a beauty queen. Since she hit the catwalk in the UK in early 2000 it didn't take long that she got signed on. After winning Miss Zambia UK 2003, Rosemary became a hot cake sought after by many agencies and designers alike, increasing the numbers shows in London, Manchester and around the UK that she was invited to.
Rosemary is a Commercial Property Surveyor. She's the epitome of commitment, hard work and beauty. Our correspondent, Gbenga Teejay Okunlola, caught up with her recently. Find below interview he has for you.
TV: Tell our readers briefly about your family and educational backgrounds.
ROSEMARY: The other side of my profession is Property Surveying. I come from a family of Doctors, Engineers, Teachers, Accountants and those pursuing careers in law.
TV: It's been a few years since you were crowned Miss Zambia UK. Would you say that was a turning point in your life?
ROSEMARY: No, winning Miss Zambia UK in 2003 was a progression to the next chapter. I had been actively involved in modeling prior to then. I was assigned to a Modeling Agency in Manchester that is where everything began; I was introduced to the industry, both its negatives and positives.
TV: Have you changed much since being crowned? If you have, in what ways? Do you enjoy being different? Is it ever an issue that you're so much more elegantly dressed than your peers?
ROSEMARY: I am still the same Rosemary I have always been; of course with time, you pick up new interests; hence you evolve in your conduct. If anything I have probably changed the meaning of a Crown than the "crowning" changing me, I always say "it is not the crown that makes a person, it is the person wearing it who gives it meaning". Being different on the other hand is a common factor to everyone; we are all designed in a unique format to everyone; so I definitely do enjoy being me, no one else out there can carry out a task, manage a project etc. the way in which I would; we have different thought processes.
In terms of being more elegantly dressed than my peers: dressing is a personal thing, at the end of the day, you wear what you feel comfortable in; and as a result, you look admirable to everyone else; you can not say "I am more elegant than the next party", it's a matter of opinion.
TV : How did you become a professional model? What are your dreams and expectations in modeling profession?
ROSEMARY: Modeling takes a lot of time and discipline. I was initially assigned to a Modeling Agency in Manchester where I was trained and groomed in the basic requirement. I then moved on to do various types of work in beauty pageantry as well as fashion shows. I always make it a point to learn something new from any projects I get involved in. My dreams are not only for me to be a well sought after Model / Ambassador worldwide but to encourage everyone else to follow their dreams, we have all got talents given to us, we just need to take time to realize them and act upon them. My expectations are not of the industry but of myself; you should never expect to get more out of something than you are prepared to put in!
TV : At one time or another, almost every young person dreams of becoming a famous model or actor. What advice would you like to give others who would like to pursue the same line of career as you?
ROSEMARY: It's interesting you are asking me this; I am actually in the process of holding seminars to encourage young girls in the Yorkshire and Humberside areas, from 8 - 16 on the same issues. I would say it is fundamental to follow your dreams, no matter what you desire to do, I would urge for the basic areas to be covered in Education. Get your education covered, take time to analyze what you want to do and follow it through. Nothing will come easy, you need to exercise patience and allow room for disappointments; it's through all of these that you will rise up. Once you have your educational background covered, you will always have that to come back to once your dream has reached its expiry lifespan or you realize modeling or if being an actor was not a desired route for you any longer.
TV : What's the most fascinating experience you have had so far in your career?
ROSEMARY: I have had quite a few. I have to say, I am a very blessed young lady! Every experience encountered has been memorable. Miss World contest offered me opportunity to meet amazing people during the contest; it was not only sharing a stage with Lionel Richie, but also meeting him and sharing a conversation with him! At Miss Universe, it was meeting Mr Donald Trump and again, amazing girls with inspiring ambitions. In my charity work, I have met many humbled people both young and old, it is amazing how many dreams and desires everyone has and the determination they have in making them all a reality is overwhelming.
TV : Many young aspiring models lack self-confidence to build a healthy self-esteem, would you say training is the key ingredient to success? What do you think are the qualities to becoming an established model?
ROSEMARY: There are many aspiring models who lack self-confidence; I know this from my own observation of the industry and from girls writing to me via my website
(www.rosemarychileshe.com).For most of them, lack of self confidence is as a result of lack of support or not knowing where to go for help; for some it is simply being overwhelmed by the amount of personal time and effort they have to invest. Training is important but not necessary a key ingredient because every task calls for a different skill, you need to be adaptable to change and be willing to be taught. The qualities, in my view, of becoming an established Model range from self management, being disciplined and persistent. If you set your goals early on, you will know what paths to follow and when to say 'yes' or 'no' to various assignments. Some girls are set on being Models but have no real idea what that means for them; so they get caught up in saying "yes, yes" to everything, they lose their path and become history after a short while in the limelight.
TV : What do you think of African models in comparison to their western counterparts?
ROSEMARY: I believe African Models have what it takes to be at the top. They should not even give room to the thought that since they are Africans, they cannot be as good or as successful. In this industry, however, it a bit unfortunate we have to work twice as much to get to the same level as other counterparts; but that is okay, it means we get so experienced, we almost become a threat!
TV : Overall, despite difficulties in getting sponsorship and adequate support from their governments, many African models still thrive on the world stage due to their courage, tenacity, perseverance and sheer hard work. So, could they make ideal ambassadors for their nations? Could they be suitable role models for African youth?
ROSEMARY: Yes, they would definitely make ideal ambassadors. This all gets down to the person as an individual. The fact that they choose to carry on for the love of what they believe in, whether there is support or not, as apposed to doing something because it looks good, basically for show, warrant them that role.
TV : Tell me what the negative and positive sides in this industry are.
ROSEMARY: Well, I guess like in every industry there is always negative and positive sides. In the modeling industry, I feel the negative is that discrimination is still actively there for minorities. You could be 100% better than the person next to you; however a bigger chunk of your selection process also lies heavily on your ethnic background. The positive sides in my view are the opportunities you get; you are more able to be a spokesperson for your peers, you get a platform to reach out to so many people.
TV : You are Co-founder of the charity organization-R.O.C Foundation, tell me more about it and your partnership with Carl Ellis?
ROSEMARY: I have always been a dedicated charity worker. HIV/AIDS Awareness is an area I feel more of us need to step up and do our bit in educating one another. Carl Ellis is a fellow Zambian, experienced in fashion design and an accountant by profession. We teamed up initially to work on his Mother Africa Fashion Label, where I am currently the face of the label, which is getting a lot of press attention worldwide, especially as it is debuting at South Africa Fashion Week from late August to early September. In getting to know one another, we realized we shared the same passion for our motherland and we both desperately wanted to do something to raise HIV/AIDS Awareness. We decided to set up the ROC Foundation -www.therocfoundation.com with an aim of raising the HIV/AIDS Awareness worldwide and alleviating poverty. Our recent trip back to Zambia was purely focused on finding an existing charity, orphanage etc in Lusaka, one in greater need of financial support so that for 1 year, through the ROC Foundation, we can raise funds and feed it back to that charity or orphanage.
TV : You've been involved with some social responsibility and remarkable projects. Are other African celebrities like you in the Diaspora doing positive things for the motherland?
ROSEMARY: I believe so, there are so many people doing remarkable work for charity but they are not "documented" or captured in the public eyes. I admire such traits in people; they do the work and offer their assistance because they simply want to help, they are not seeking credit, it's the best way to be I believe…. because God sees all that is done.
TV : Has your parents been supportive? Were they proud of you when you became a professional model?
ROSEMARY: Yes, very much! my whole family have always been supportive and encouraging …..
TV : What subjects interested you most as a schoolgirl?
ROSEMARY: Mathematics, English and Business Management. Were my favorites' because I believed it would offer me a wider choice in specialist routes; as a result, my degree at university was Business Property Management, I now work in a Property Surveying company
TV : There's widespread corruption amongst African Leaders, Does the thought of entering the political arena ever flash across your mind? Do you feel a strong personal commitment to change in Africa?
ROSEMARY: No, politics is not for me. There are people born for the job, I am not one of them. I do however have a personal desire to change a lot of areas in Africa ;only where my expertise are called for, you can only do so much as an individual.
TV : Models have become extremely powerful as role models, and often something as simple as a change in skirt length can be interpreted as having political significance. What's your take on that?
ROSEMARY: There are different image you need to portray in various scenarios. If you want to be taken seriously in a business meeting for example, it makes sense to be dressed appropriately, be it, in a suit or a long skirt etc. The bottom line is that you need to "dress the part"; clothes are powerful in their own rights, they could either break you or make you!
TV : Do you have any plans in the pipeline for a fashion label targeting the Africans?
ROSEMARY: Definitely, no definite dates have been penciled for that yet; however plans have been discussed on the subject matter. Currently you could say I am learning the robes whilst fronting the Mother Africa Fashion Label.
TV : How would you describe Beauty and Elegance?
ROSEMARY: Very typical, however it is in the eyes of the beholder! Everyone is beautiful in their own rights, Elegance is a personal trait.
TV : Lack of African/Black Models on Runway. Is this reflective of the industry?
ROSEMARY: Sadly, yes, the Industry calls for patience and persistence; I believe things will change, though slowly but surely.
TV : When you get to a certain point in your career would you become very vocal about the need for more black models in fashion shows and on magazine covers?
ROSEMARY: Most definitely, I am pushing myself to get there first as I believe this is the best way to voice the concern and to show that it can be done. A lot of the times, it is best to have actions than words.
TV : Other than being home of the Victoria Falls and many other magnificent waterfalls, spectacular wildlife, superb safaris, great adventures, rich culture and friendly people, what makes Zambia different from other African nations?
ROSEMARY: Its vast potential for growth, flare of talents, creativity and innovation of its people in trades and textiles.
TV : Tell us things we don't know about you. And what's your Christian life like?
ROSEMARY: I am a well rounded person. Monday to Friday, I work 9-5:30 as a Property Surveyor currently dealing lettings, acquisitions and disposals of Industrial Units. My weekends are mostly consumed with travel in respect of my fashion and charity work. I worship with New Apostolic and very active in my work on Sundays, I am in church where I sing soprano in the choir and assist with the Sunday School children from the ages of 10+.
TV : How do you think you managed to break through in modeling and achieve not just success, but early success?
ROSEMARY:I believe my achievements have been through taking time to realize what my aspirations are and being focused enough to be able to turn down certain assignments because they do not fit my desired work ethics.
TV : Miss Universe 2007, (the 56th Miss Universe pageant) was won by Riyo Mori of Japan. As Zuleyka Rivera was crowning Riyo Mori with the official Mikimoto crown, it slipped from her grasp and nearly fell to the floor. Mori was able to catch the crown. What were you thinking in that split moment?
ROSEMARY: "Ooops", no, I was just so happy for her, with many people on the stage, I did not even see the crown slipping until afterwards in photos etc. I was busy cheering on in the background, the whole experience was overwhelming, the moment of the crowning was a mixture of excitement and being relieved it was all over and I would be going home soon. We were there for a whole month of hard work; it was great whilst it lasted.
TV : Where would you like to see the Rosemary Chileshe in ten years' time?
ROSEMARY: Rosemary Chileshe is a brand, so you will be seeing her face on billboards, on international runways and fronting cosmetic brands etc..Her name will also be linked to a number of charity activities through her charity - the ROC Foundation. I am also a motivational speaker….. my aim is to move into that arena and encourage the youth to be the leaders that they are for our future generations!
TV : What's your normal day like?
ROSEMARY: Consumed with hard work from early mornings till late evening and where time permits, spending quality time with loved ones, friends etc.
TV : Are you into any relationship? Is there a Mr. Right at the moment?
ROSEMARY: Yes I am and I believe God has blessed me with a wonderful partner in life.
TV : How do you brace yourself up for some unwelcome opposite sex attention?
ROSEMARY: I never tolerate it, I am very upfront and always make it clear from the beginning that I am all about the business at hand.
TV : Who is your role model and why?
ROSEMARY: First and foremost, our heavenly Father, only through him is everything possible; my family as a whole because they are supportive and always encourage me to follow my dreams and finally but not least, my friends, through their achievements and dreams, am also inspired to move forward.
TV : What's your definition of a 'classy woman'?
ROSEMARY: Confident; one with self respect; being able to laugh at her own misfortunes; taking responsibility for her own mistakes etc being mysterious and business minded.
TV : When people ask what you do for a living, how do you describe your occupation?
ROSEMARY: I tell them, "I do everything from Property, Fashion to Charity work". In more straightforward terms, I am a Property Surveyor by 9 - 5:30 profession and on my other side; I am an established Fashion Model and a dedicated Charity worker.
TV : Can you talk about what those benefits were that you saw in the early stages of your modeling career?
ROSEMARY: Having a platform to stand on and be heard.
TV : What else would you like to add?
ROSEMARY: Through my charity work, I was awarded GAB (Gathering of Africa's Best) Award in 2006. You can visit my website and view all of my past work and future assignments on: www.rosemarychileshe.com; also you can read about my charity- the ROC Foundation - www.therocfoundation.com