Stock Index Futures Signal Higher Wall Street Open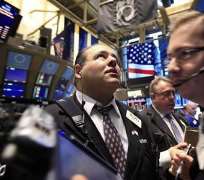 Stock index futures pointed to a higher open for equities on Wall Street on Wednesday, with futures for the S&P 500, Dow Jones and Nasdaq 100 rising 0.5 to 0.6 percent.
The Mortgage Bankers Association will release its Weekly Mortgage Market Index for the week ended February 10 at 1200 GMT. The mortgage market index read 810.0 and the refinancing index was 4,500.7 in the previous week.
New York Federal Reserve releases its Empire State Manufacturing Survey for February at 1330 GMT. Economists expect a reading of 15.00 compared with 13.48 in January.
A Goldman Sachs (GS.N) technology analyst is under investigation by federal authorities for leaking inside information to hedge funds, the Wall Street Journal said, citing people close to the situation.
The Treasury Department issues net capital flows and foreign Treasury purchases for December at 1400 GMT. In November, net capital inflows were $59.8 billion, while foreign net purchases of U.S. treasuries were $54.0 billion.
U.S. lawmakers reached a tentative deal on Tuesday on legislation aimed at boosting the economy by extending a payroll tax cut for 160 million workers through this year and continuing long-term jobless benefits, congressional aides said.
The Federal Reserve releases January industrial production and capacity utilization data at 1415 GMT. Economists expect a 0.7 percent rise in production and a reading of 78.6 percent for capacity utilization. In December, production rose 0.4 percent and capacity utilization was 78.1 percent.
Talks between Yahoo Inc (YHOO.O) and China's Alibaba Group over the U.S. Internet giant's Asian assets have hit an impasse, throwing their plans for a $17 billion tax-free asset swap into question, according to sources briefed on the situation.
The National Association of Home Builders/Wells Fargo February housing market index is due at 1500 GMT. Economists expect a reading of 26 versus 25 in January.
A group of Illumina (ILMN.O) shareholders has filed a putative class action against the life sciences company alleging that its directors adopted a poison pill plan to thwart a takeover by Swiss drugmaker Roche Holding Ltd. (ROG.VX), based on bad advice from Goldman Sachs (GS.N).
At 1600 GMT, the Labor Department issues recalculated seasonal adjustment factors for 2007-11 to its Consumer Price Index. In December, CPI was unchanged and core CPI rose 0.1 percent.
European stocks .FTEU3 rose 0.6 percent in morning trade following better-than-feared GDP figures for Germany and France, and as debt-striken Greece appeared to be nearing a political consensus on painful budget cuts.
Euro zone finance ministers have dropped plans for a face-to-face meeting on Wednesday on Greece's new international bailout, saying party leaders in Athens failed to provide the required commitment to reform. However, a government source said Antonis Samaras, who will probably be the next prime minister, would sign the commitment on Wednesday.
Entering the fifth year of recession, Greece is writing its name in the book of unwanted records for one of the deepest economic slumps of modern times.
On Tuesday, the Dow Jones industrial average .DJI gained 4.24 points, or 0.03 percent, to 12,878.28. The Standard & Poor's 500 Index .SPX dropped 1.27 points, or 0.09 percent, to 1,350.50. The Nasdaq Composite Index .IXIC edged up 0.44 points, or 0.02 percent, to 2,931.83.
REUTERS