Senate Dismisses Call For Sovereign National Conference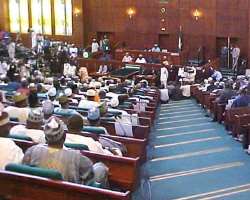 ABUJA, February 14, (THEWILL) - The Senate on Tuesday dismissed the calls for a Sovereign National Conference (SNC), describing the agitations as vague.
Senate spokesman, Senator Enyinnaya Abaribe, told a press conference in Abuja that National Assembly remains the only vehicle by which constitutional changes in the country can be made.
He also added that the Senate has giving its committees a deadline of Thursday this week, to turn in their reports on the budget defence by ministries or else the chamber will be forced to adopt the executive's proposals.
Apparently reacting to the calls for the SNC, Abaribe said, "Our position is that we are already elected to represent all persons and citizens of Nigeria. If you look at the composition you are either represented by a House of Representative member or a senator.
"We do not think there is any matter under the sun that we will shy away from. We do not understand the stand of those who insist that there must be Sovereign National Conference.
"For the avoidance of doubt we are not against any group, association or persons meeting to discuss because that is to ensure democracy. What we are saying is that there cannot be democracy without democrats. Therefore if you want any alteration to the way of life in the country the vehicle is the National Assembly.
"If you want to change the constitution bring it through the Representatives and the Senate
Recall that recent security challenges in the country sparked off renewed calls from some Nigerians on the need for a sovereign National Conference.
Speaking on the budget, Abaribe declared the resolve of the Senate leadership to keep to the deadline for submission of the budget report.
According to him, the Senate is committed to ensuring that the budget is completed by March.
On the report of plans to purchase jeeps for National Assembly members, he said it is the responsibility of the National Assembly Commission to provide the tools for NASS members operation.
"I have no idea whether the vehicles have arrived. The appropriate people to ask is the National Assembly Service Commission," he said.