I WON'T LET BAYELSANS, OTHERS DOWN -DICKSON, GOV-ELECT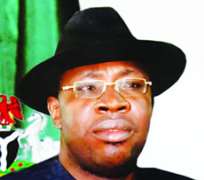 Being the acceptance speech by Bayelsa State Governor-elect, Henry Dickson after INEC's announcement of the result yesterday.
My dear good People of Bayelsa State, Today is the climax of the journey we started several months ago when I announced my intention to run for the office of governor of our dear state on the platform of our great party, Peoples Democratic Party (PDP).
We hinged our campaign on CHANGE and RESTORATION. That change you so much desire, is what we symbolize!
Let me thank you all for your prayers and support, for all the sacrifices made and the risk taken in order to ensure our victory at the polls.
I wish to particularly thank my boss and elder brother, Mr. President and the leader of our great party,
His Excellency, Dr. Goodluck Ebele Jonathan, GCFR, for his fatherly support and unflinching commitment to Bayelsa State. Similarly, we salute the Vice President, Namadi Sambo, President of the Senate, Dr. David Mark and my immediate boss and Speaker of the House of Representatives, Alhaji Aminu Waziri Tambuwal for working assiduously for our victory of PDP.
Let me also thank all the leaders of our great party particularly, the National Chairman of the PDP, members of the National Working Committee and all the members of the National Campaign Committee for Bayelsa governorship campaign led by the VP. This sweet victory couldn't have been possible without the dynamic leadership of the state exco led by Deacon James Dugo.
Permit me to also extend my sincere appreciation to all our teeming supporters, KEME2KEME volunteers, party faithful and most especially, members of 'The Restoration 2012 Campaign Team' led by the Director General, Chief Fred Agbedi for their dogged determination in driving this campaign to its final destination; resulting in our party's resounding victory at the polls, today. We are truly grateful and eternally indebted to you for your invaluable contributions to the success of our campaign.
We wish to thank the chiefs, traditional rulers and elders, including the youths and women for their hospitality and support in the course of our campaign tour across all the eight local government areas in the state. With your support and prayers, we won the party's nomination on Novembe 19. Since becoming flagbearer on the 19, we have built the PDP in Bayelsa State and have re-organized it as a more effective and potent vehicle for change and restoration. Having done that, we then embarked on a robust, issue-based and people-oriented campaign across the nooks and crannies of our dear state.
On February 3, you all inconvenienced yourself to be part of an unprecedented grand rally where my running mate and I, were officially presented with our party's flag. We thank you for being part of our campaign through the internet, bulk SMS, robo calls and all forms of social media platforms which were effectively deployed to engage the voters and percolate restoration message. We thank our supporters for their peaceful conduct before, during and after the polls, which have been adjudged the freest and fairest in the history of our state. The peaceful conduct of the polls proved our detractors wrong. We have proved to the whole world that we will not succumb to violence and we are not a violent people. Above all, we are determined to move forward as a people.
The Independent National Electoral Commission (INEC) has just announced the outcome of yesterday's elections, which myself and my running mate were declared the winner. I am humbled by this overwhelming mandate freely given to us by Bayelsans. Let me therefore thank INEC for conducting a free, fair and violent-free elections. The observers, both local and national have adjudged the process as the freest and fairest in the history of our dear state. I thank the people of Bayelsa State and Ijaw nation for the support and solidarity in the RESTORATION MARCH.
We thank the friends of Bayelsa for their keen interest and partnership. We equally thank all those who contributed one way or the other to our campaigns. We appreciate your enormous contributions, without which this change would not have been a reality. We sincerely thank all the clergymen for their prayers and unyielding support. I personally want to thank them for their steadfastness in prayers for me and my family all through the course of this campaign.
We must at this point thank the chiefs and elders in all the communities when we solicited for peoples' votes. We thank them for their gifts and prayers as well as the warm hospitality accorded us everywhere we went in the course of our campaign. To those who contested against us, candidates of other parties, we thank them for their service and making the contest worth the while. Their involvement made us to work harder and this brought out the best in us. To all those who contested with us at our party primaries, we acknowledge their contributions and efforts in bringing about this victory of our party.
Yesterday, we went into general elections as opponents. But today, a new reality has dawn. A reality that enjoins us, as a people with common heritage, to rally round one another in the interest of our dear state and to work towards moving the state forward. This victory is a call to service and a call to prepare for the daunting challenges of the future. To you my good people of Bayelsa, you asked for change and by the reason of your mandate today, we now symbolize that change. You have voted for restoration. You have voted for the change that you rightly deserve. Bayelsa State and the Ijaw Nation will never remain the same.
In the course of our campaign, we promised massive investment in critical infrastructure. We also promised you free and compulsory education for all our children in primary and secondary schools. We also vowed to invest in developing the human capital of our teeming youths, such that they will be able to unleash their creative capacities as well as enhance their drive for entrepreneurship. Even much more, we promised that we run an open, transparent and accountable government that places the welfare of our people above all else.
Let me assure you that these are not mere campaign promises. They will be the cornerstones of our administration.
We will do as promised.
Once again, we promise that we will not let you down. We wish to assure those who contested against us at the general elections and party primaries that there is no victor, no vanquished. Bayelsa State and the Ijaw Nation are the ultimate winners. We urge them all to join hands with us to build Bayelsa State and the Ijaw Nation.
Let us all unite to build a state that we will bequeath to our children as well as generations yet unborn. We call on all Bayelsans to joins hands with us as we strive to turn the state to the Jerusalem of the Ijaws. And let it be said of us by posterity, long after we are all gone, that we came, we saw and served our dear state to the best of our ability.
Thank you, God bless Bayelsa and the entire Ijaw Nation.