NIGERIAN SKIES ARE FOR EXPLORATION, NOT EXPLOITATION - DEMUREN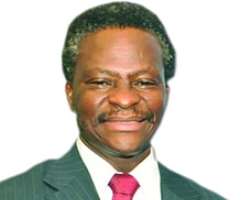 •Demuren
Dr Harold Demuren, director general and chief executive of the Nigerian Civil Aviation Authority (NCAA) is one of the few Nigerians literally born and bred in the aviation sector. He is also one of the 'lucky' people to have swam the rough waters of aviation and survived the tides, having reached the zenith of his career. Like in most success stories, the journey was not an all-smooth cruise, as he has had his fair share of tribulation.
Interestingly, he hung on, as passion for his field of endeavour remained his propellant.
After a series of air crashes jolted the nation between 2005 and 2006, Demuren was appointed to 'reform' the industry, starting with the regulatory body. He told Daily Sun in this exclusive interview that on assumption of duties, he discovered that some level of aircraft maintenance was done on the tarmac at night with torchlight.
'That was unacceptable. How can you carry out such maintenance? That was an express invitation for disaster because it's against the rule and, worse still, you can't be thorough. We abolished that immediately,' he said. Demuren planted the aviation sector's feet on high successful pedestal, having led the country to attain the highly coveted US Cat 1 Status, which is a testimonial of improved safety and security in the nation's aviation sector.
Moreso, incidents and accidents have reduced and more international airlines have commenced operations.
Having achieved the above stated feat, Demuren said it's time to focus on consumer protection by checking passenger abuse, especially by foreign carriers. He emphasized that Nigerian skies are for exploration, and not exploitation, warning that any form of ill-treatment of Nigerian passengers cannot be tolerated.
Here, he speaks more about his job and vision.
Excerpts:
Magic wand
Let me say this: All of us are pencils in the hand of the creator. Everything we've really achieved has been by the Grace of God. It has also been a collective responsiblity. I just have to show leadership and show focus. We must forget the situation we met on ground when we came here. We had, basically, two major fatal accidents and, before we knew it, a third one came. So, their were loss of lives…and the most critical one has been that of children, sultan and other great Nigerians who died. Every member of the family is affected, so the idea was to set a goal of zero accident; that we must stop these accidents and, in doing that, we need total radical departure from the way we do things. That is probity, accountability, honesty and integrity, in the conduct of aviation safety business. That was so important, and that was why we had to shake the place up a bit, and thank God, we were able to achieve this.
2011 review and prospects of 2012
Let me say this, if you look back at things, I believe we have done well on safety and security. We are already battling consumer protection to make sure passengers' rights are not continually abused.
You know the on-going cases of British Airways and Virgin Atlantic - on the international scene, and also on the domestic scene. Our goal, of course, is to sustain the growth we have. We have just got Category 1, and we have to sustain it.
As I told you, you can get Cat. 1, and you also can lose it, but we don't want to lose it. We wish to continue to sustain zero accident, commercial schedule, domestically. And, God forbid, if anything should occur, we must be able to search and rescue them. Those are the goals that we still have in mind - zero accident, zero fatality - and we must search and rescue, and not search and recover. That should be our goal. That is one; the other is that we are now looking at other areas to raise the bar. We want to succeed on Performance Based Navigation (PBN). We mean business on that; that is the way to go. It will promote safety, it will improve security, it will improve everything we are doing, that is the way to go.
Performance Based Navigation in details
I want to thank the League of Airports and Aviation Correspondents (LAAC) for their coverage of our activities, though we may not like what you say sometimes, but it kept us on our toes. For instance, you said we were flying coffins…and we have removed all the dead aeroplanes. We now have brand new aircraft flying the country. And these airplanes meet the international standards; they have very higher standards but they do not enjoy corresponding facilities on ground.
For instance, we are in harmattan and most of these aircraft can do auto-landing, but we can't start that because the equipment on ground can't support it. So, those are my challenges now. I want to work to improve the infrastructure on ground; to make sure we meet those standards. Moreso for Performance Based Navigation, we want to change from terrestrial based navigation to satellite based one, and that is our target. We are working with Boeing, as our consultant on this, and the United States Federal Aviation Administration (USFAA) has given us the biggest support in this area.
Also, aircraft tracking is very important for us; we want to track the airplanes, we want to know which plane is flying over our airspace; who is flying it, and we want to go the extra mile to know those who are on board. And this is part of the central data base we are developing; it is going to help in security, and we want a central base where we can see all these and everybody can have advance passenger information system. So, these are the areas.
Infrastructure is important, we need to improve on our airports, the runways, we want to have landing lights so that we can improve on safety there and our terminal building, is not the best. Our teaming passengers want better comfort. We have started in Abuja , thank God our honourable minister Mrs. Transformation she is at it, we want to make sure that we give her the full support to make sure we achieve this.
Terrorism and aviation security
I am happy to inform you that we have done very well. The programme on ground is solid. We want to ensure that we make this happen and we get to the place. There is no going back on this. We're even improving on the enhanced security we put at the airports. We are now getting the latest technology. The game is technology and we are getting best of it.
We're getting technology that can detect explosives, be it in liquid or powdery form or even any other kind for that matter. Such equipment can detect it anywhere in the body without showing the body contours. All those concerns of the general public, I mean like the health concern, religious concern, human right concern etc, all those are things we want to remove so that we can do that and it is going to cost a lot of money. That is what the minister is assisting us to do. That is what we want to do and when we do that, there is going to be seamless travel.
More so, we've never gotten the gains of category one in terms of transiting. Everybody wants to enjoy the airplane, land and enjoy the transit lounge. We want to turn Nigeria into that, so those are the areas we are facing.
Security is number one, our access gate, our border patrols and particularly our security fence, we are now going to advance one that you cannot penetrate and come into our system. That is the area we are going, that is what we are trying to do in security.
Maintenance
Lack of in-house maintenance capabilities is destroying all our gains and we need to assist our airlines. This is very important. And the first way to do it is to open up; for FAAN to give land to people to build hangar facility all over Nigeria. That is what is happening all over the world. When we are taxing other people, we don't want to tax those ones (airlines). Take somebody like Arik, they have a lot of planes, there is no reason we should not give Arik large area of land to build hangar facility. You can't be taking all that (airplanes) out. That is the programme this year; that is what we want to achieve.
Finance
Let me say this, aviation is capital intensive, like the hangar project you mentioned, like the simulator training, I want them to be able to do simulator also in Nigeria, both maintenance and foreign simulator training are the things we must do in Nigeria to make sure we solidify and we can move safety forward. However to do that, you can go and borrow money, it's going to be a PPP, somebody has to go and provide the funds, but you can't provide that money at 25 per cent, it has to be a single digit interest rate. Those are the things we've been talking and the Central Bank and the federal government are assisting in that area. They have helped other industries and we need to help aviation. Maintenance, simulator training, and others you cannot establish such things on 25 per cent interest rate; it is not possible. It must be a single digit interest rate those are things we should do.
BASA fund
The BASA fund is intact. We have not taken a penny out of it. There are lots of proposals from a lot of people. We have to use it to improve safety, to improve security, and to make sure that in essence, we can provide better service to our people. Those things are going on, it is in the central bank of Nigeria, it is not in any private bank. And we know how much is there, we are getting over 80 something million dollars right now. There is a lot of progress; you know Arik has used their own to improve aviation services in Nigeria.
Passenger abuse
You know we have just started and we need to continue to improve. You see us working with foreign airlines and I want to tell you this, our market is open for exploration but closed to exploitation. We mean business on that and we are going to work to the letter on that. On the domestic scene, also we need to be able to do the same. What is happening is this, no law, no offence. I am very happy to inform you that this week, we will be signing the air transport regulations into law just as you have the safety one. We are having a conglomeration of industry where we can initial. And with that guideline and the financial health audit we are conducting and the various things we are doing with consumer protection will be in a place to push this further and get to higher horizons.
How we abolished maintenance on tarmac
It was strict discipline; we can't be doing business that way. Those are recipes for disaster and in order not to do such things happen, we must stop it. So, that is over and over forever. We will never come to that era again. It is very expensive for our airlines, doing good maintenance, train their people and all that, but it is a safety management culture that we are developing, we must sustain this and make sure we continue doing it.
Merging domestic operations
We have been talking with them; there is a need for interlining. We don't want a passenger to buy 10 tickets. This morning you are going to Abuja, you have already bought a ticket on Arik and Arik has already cancelled its flight, now you want to go to Dana, you get to Dana, Dana said this is not my ticket, go and buy another one. By the time you are buying another one, something technical again happens. You find out again that Dana could not go. Now there is an Aero going, you end up buying another ticket. We want to stop all that through interline. We have discussed with the airlines and they've agreed in principle and we will see that coming to fruition this year.
Allegation that Chanchangi operates one aircraft
I don't think it is well explained. Chanchangi has about three aircraft that are out for maintenance that will soon come back. And before that one will come, they had to operate because they don't want to lose their routes. In fact, they have two of those Jordanian aircraft. One went back because of bird strike and they changed the engine and went back for maintenance, it is not back yet. But even with the one they are having they are doing skeletal service, two flights a day, we monitor what they are doing, so it is on search light. Anytime they get to Lagos, they are on ramp, anytime they get to Abuja, they are on ramp. Don't forget Chanchangi was the biggest airline when I came in, it is our intention to make sure that safety is not compromised and at the same time, we can help them survive.
Conforming with standards
Let me explain to you, in the first instance, according to law of aviation and as it is the norm all over the world, whether it is International Civil Aviation Organization [ICAO] or Federal Aviation Administration [FAA] or the United Kingdom Civil Aviation Authority[UKCAA] or the Nigerian Civil Aviation Authority[NCAA] the practice is the same.
You cannot send your aircraft to another place unless NCAA has approved it. You must have an approval called AMO -that is- Approved Maintenance Organization, where the maintenance of your aircraft is carried out.
They also must have approved the place, give them approval and they go there to audit their work whether or not the maintenance is for the army aircraft or the aircraft is done by other countries. So, they must maintain those aircraft as scheduled. We don't allow airline operators to do maintenance as per customers' request. They do it as par approved maintenance schedule of NCAA. Let me give you one example.
You do your A check every twenty to twenty-five days, you do your B check every three months, you do C check every year or you do it after so many hours, so many circles. Nigeria super-imposed calendar limitations. We are stricter and you must do it and it must go. So, number one, before you send it, NCAA must approve it, then later on, before the aircraft is going to leave the service point, our people will go and verify whether those works have been done.
There's a work package, there's a work graph that everyone follows, one by one. Only when you have done that and the mandatory airworthiness that you must comply with.  Check interval you must not miss, all those are there.
We have a very solid surveillance program. Our inspectors go round the tarmac, they burst into any aircraft without prior notice, and they show their identity [ID] and demand to see safety record of the particular aircraft they enter. Where is your certificate of maintenance that was issued? Our engineers will check your record and ask questions. So, with the system we now have in place, it is not possible to say we have safety issues.
Are you 100% sure?
Yes! If not, aircraft will be dropping from the sky.
Requirements for opening an airline
To open an airline, you must get the permission; you must have what we call economic authorizations that you want to go into the business. Economic authorization involves that you must apply to NCAA, get all your papers, you must have very good business model you want to do, what type of aircraft, where do you want to go and many more.
After that, we apply to our own parent ministry, Ministry of Aviation, to tell our minister about the application, like, this is what we are doing and they should please seek for security clearance. That is economic authorization. You will now start what we call Air Operation Certificate (AOC) proper and that is the big deal.
Those are safety requirements. How do you train your crew? You have plans for your maintenance, where are you going to do it? What about your dispatch? It goes to everything, your flight crew, your cabin crew, your maintenance engineers; every safety requirements must be met.
We go through one by one. What about your manual? Where are your tools and equipment to do the work? Have you trained the people? How much are you giving them? There's also what we said qualified personnel in sufficient number, for instance, this job requires twenty people to work for you, show us the twenty people. You must show me, if they are 19, then it's not complete yet, you must show the twenty, we call it Qualified Highly Rated Experience Personnel in sufficient number. This happens every time but when we stopped them from operating, revoke the licence, we don't do it on the pages of newspapers.
Long time to process compensation for air crash victims
We sued all the airlines involved at the time. Bellview paid very quickly, out of all of them, Bellview did very well. Sosoliso had issues and finally decided to pay; they have to sell some of the aircraft to compensate the people.
There is what we call in American Law, Family Assistance Programme, when they say people died, everybody commiserate with them, they will go, we forget there. Most likely all will be paid; to buy the aircraft back is easier to pay. But they don't remember the passengers that died.