2 Explosions Strike Northeast Nigeria City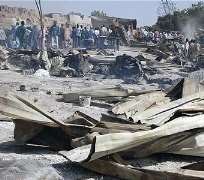 Authorities say two explosions, including a car bomb, struck a northeast Nigerian city, wounding two soldiers.
Military spokesman Lt. Col. Hassan Ifijeh Mohammed said in a statement that the attacks took place Friday in Maiduguri, the spiritual home for the radical Islamist sect known as Boko Haram.
Mohammed said only two soldiers were wounded in the explosions, while four suspected Boko Haram militants died.
The blasts come after Boko Haram claimed responsibility for multiple bomb attacks Tuesday in Maiduguri, which saw shops in a major market burn.
Boko Haram is waging an increasingly violent campaign against Nigeria's weak central government in its quest to enact strict Shariah law, free its detained members and avenge Muslim deaths in the nation.
AFP