LET'S GIVE GIRINGORY PLENTY LAUGHTER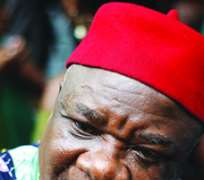 Zebrudaya
The plight of erstwhile ace thespian and great innovator and entertainer, James Akwari Iroha, alias Giringory Akabuogu of the rested television soap, The Masquerade, as revealed in two separate interviews in Saturday Punch of January 14, 2012 pages 20-21 and Saturday Sun of January 21,2012 pages 19-20 respectively aroused pity, sympathy and empathy.
For those who might not know, Iroha is the creator of The Masquerade television sitcom series that dramatizes the family intrigues of a middle class couple, Chief Zebrudaya Okoroigwe Nwogbo, alias 4.30 and his equally hilarious and submissive housewife, Ovularia and his tricky house boys, Giringory Akabuogu and Clarus Mgbeojirikwe. Giringory and Clarus play opposite roles in each episode thereby heighten the tension and suspense in the drama.
Other members of the cast include the late Claude Eke who played the role of Chief Jegede Shokoya (the youngest millionaire in the whole universe), the late Christy Essien-Igbokwe, who acted Akpena, the no-nonsense house wife of Jegede. The role was later played by Ramota when Christy left to pursue her musical career. There is the knotty Natty, Philo Nwam and some other occasional guest artistes.
The two interviews published one week apart showed the appalling story that has become the ugly lot of the septuagenarian consummate artiste who has literally turned blind due to carelessness of our doctors or lack of early care or both.
Whatever is the case, reading the sad story of the once bubbling and agile Giringory full of pranks and witticism, who kept all of us laughing and boisterously glued to our television sets in the 1970s, 1980s and even1990s in his trademark rustic Calabar idiolect, is indeed not a laughing matter at all. More worrisome is the fact that at 70 years of age, Iroha has no roof of his own over his head. He still worries about rents. His car is in great state of disrepair. His pension is not regular. In fact, there is no laughter in the life of the man who ensured that we laugh away our sorrows after passing through the harrowing experiences of the 30 months fratricidal Nigeria-Biafra war of 1967-1970.
His near-blindness state is worse than any disease. He would rather prefer losing one leg than losing his sight. If it is that bad, it is tragic for the aging actor. How can a man who created such rave-making television drama by modeling a theater out of his parents' funny mannerisms be left uncared for by those he brought joy into their lives and living rooms? The combination of his tall father and his short but shrewd mother's characters formed the main ingredients of Iroha's dramaturgy, a combination of drama, education and entertainment.
His foray into drama is predictable. His parents are his role models. Iroha was an actor before going to the University of Ibadan to formalize his training. He was among the first students of Theater Arts Department in Ibadan and he was its best graduating student in 1966. James Iroha drank deeply from the spring of the founding fathers of the famous Ibadan Theatre School. It is, therefore, not a surprise that Ibadan produced such theatre icons as Giringory and others.
But today, laughter seems to have left the humour merchant. Iroha is languishing in pain and penury due to neglect and abuse of his intellectual property. He says that there is no difference between him and poverty. For his creativity and that of the cast, the Nigerian Television Authority (NTA) paid them a paltry sum of about N250 per episode that some of them end up getting N10, N2 and what have you. His efforts to get back the copyright and benefits due him have met brick wall. Authorities of NTA, apparently exploiting lack of copyright agreement when the series started claimed that as their employee, he has no copyright to The Masquerade drama series, which they later renamed The New Masquerade.
But Iroha should not lose hope of regaining his copyright of his brain work. I believe that good lawyers, especially those versed in copyright laws can come to Iroha's rescue. He will not only reclaim his copyright, NTA must be made to pay him for using his copyright over the decades. If Iroha were in the US or UK, he would not be in this sorry state. His copyright would have been accruing to him without any prompting. Iroha should be made to enjoy his copyright of the drama series, employment with NTA notwithstanding.
Why was the drama series called The Masquerade when none of the cast had mask? Iroha in his Punch interview explains, 'And as for the title, The Masquerade, I used it because in the African context of the word, there is respect for masquerades. You could mask yourself and even talk to a king without fear of being arrested by his guards. That respect, which Africans give to masquerades, prompted me to title the drama Masquerade.'And true to its name, The Masquerade dramatized themes of love, hate tribalism, religion politics, corruption and what have you without fear or favour.
I remember one episode that bothered on strike in Zebrudaya's household. The same tension and anxiety the soap strike generated were reenacted in the recent one week strike by labour over fuel subsidy removal in the country. The anxiety that gripped Nigerians was of similar magnitude with the one that enveloped Zebrudaya's household in the play. Both strikes were characterized by the same intrigues and power play between the leaders and the led.
Giringory is not alone in this sight problem. He said that other members of the cast like Clarus (Davies Offor) and Ovularia (Lizzy Ivoeme) have suffered similar fate. But he discountenanced the suggestion that the bad omen must be the handiwork of evil people. Regardless of the cause of their sight problem, they need care and succour as well as laughter. This is the time to give Giringory plenty laughter. This is the time the society should pay back to Iroha what he did to them years ago. Iroha entertained us freely or just for peanuts. He made us happy with his antics and mannerisms. We should not allow him to wallow in penury and deprivation.
Giringory alluded to the fact that he is not sure that the government is aware of his plight in the interview. If the government does not know his condition, I want to use this avenue to draw the attention of his state governor, Chief Theodore Orji (Ochendo) to the plight of one of his own. Iroha is a native of Amaokwe Item in Bende Local Government Area of Abia State. He is a recipient of the national honour of the Officer Order of the Niger (OON).
James Iroha is in dire need of good medical care so that his sight can be restored. He needs a house of his own and a good car for movement. He also needs maintenance allowance. I believe that governor Orji can assist him. He should give laughter to him. Iroha deserves such state treatment. He is one of the noblest Abians alive. He should not be allowed to die in penury. Even in his predicament, Iroha can still be an asset to any Drama or Theater Arts or English Department in any University. Abia can among other things do that for him too. Upcoming theatre arts students should tap from Iroha's vast experiences.
Governance is not only about building roads and bridges. Taking care of our revered and talented citizens like Iroha is part of governance duties. Governor Peter Obi of Anambra State has set the ball rolling when he recognized talented Anambrarians during the celebration of the 20th anniversary of its creation last year. Obi has also recognized intellectuals and professionals and worked with them in uplifting the state. Let governors Theodore Orji, Rochas Okorocha, Sullivan Chime and Martin Elechi follow suit.
We should not allow the labours of our heroes past to be in vain. And the only way Iroha's labour shall not be in vain is to rescue him now. This appeal for his rehabilitation is not limited to Orji and other South-east governors alone. Other Nigerians including corporate bodies and the federal government can give succour to Iroha and others in his shoes. That is the best way to keep the Nigerian flag flying for them. Iroha gave us throaty laughter, let's pay him back with plenty and louder laughter now.