Wall Street Lower As Greece Talks Drag On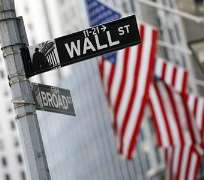 Stocks gave up early gains on Wednesday as the Dow hovered at its highest level in nearly four years and investors waited for Greece to accept tough reforms in exchange for a new bailout.
Efforts by the Greek prime minister to get the three parties in his government to accept reforms demanded by the European Union and International Monetary Fund seemed to have been thwarted by arguments over procedural matters.
And policymakers were still divided on what contribution the European Central Bank could make to a restructuring of Greece's sovereign debt, sources said.
"It is going to be a drawn-out process like it has been, but the market has been looking beyond that," said Tim Ghriskey, investment officer of Solaris Asset Management in Bedford Hills, New York.
The Dow Jones industrial average was down 38.03 points, or 0.30 percent, at 12,840.17. The Standard & Poor's 500 Index fell 2.73 points, or 0.20 percent, at 1,344.32. The Nasdaq Composite Index was off 5.46 points, or 0.19 percent, at 2,898.62.
Energy shares fell the most as Brent and U.S. crude oil futures pared gains after a report showed a build-up in U.S. crude inventories. The S&P energy index fell 0.7 percent, while Exxon Mobil Corp was the biggest drag on the Dow, falling nearly 1 percent to $85.10.
The Dow closed Tuesday at its highest level since May 2008 as stocks rallied from late last year on central bank action and signs of an improving economy.
The Dow is up 21 percent since early October and has retraced over 80 percent of its bear market slide from 2007 to early 2009.
The blue-chip index is now about 10 percent away from its all-time high hit in October 2007.
"New highs bode well for future performance," technical analysts at Instinet in New York said in a research note. "From an intermediate perspective a new high would be a positive for the index."
High-profile Wall Streeters raised eyebrows with their endorsement of stocks.
Laurence D. Fink, chief executive of BlackRock, the world's largest money manager, told Bloomberg Television that investors should be 100 percent in stocks.
That followed bullish comments from the staff of renowned market bear Nouriel Roubini. Gina Sanchez, Roubini's director of equity and allocation strategy, told CNBC that the rally "has some legs."
"Any day when you a number of pundits come out and say you should own stocks, a lot of people say 'Oh, time to sell', especially after the market's had a big move," said Ghriskey.
Walt Disney Co rose nearly 1 percent to $41.34 and was a top boost to the Dow a day after it reported quarterly profit that grew faster than expected.
Polo Ralph Lauren Corp surged nearly 10 percent to $171.90 after the clothing maker reporting better-than-expected results for the holiday quarter and raised its margin forecast.
Ingersoll-Rand Plc climbed 1.8 percent to $38.23 after quarterly results topped estimates, although sales fell.
Of the 315 in the S&P 500 that have reported earnings to date, 61.0 percent have been above analyst expectations.
McDonald's Corp shed 0.7 percent to $100.24 after January sales rose more than expected at its established restaurants across the globe.
Visa Inc, due later Wednesday, is expected to come in with a profit of $1.45 per share, up from $1.23 a year ago, helped by a rise in consumer spending in the holiday season.
Other companies due to report include Cisco Systems Inc and News Corp.
Cisco is expected to post a stable quarter, lifted by improving U.S. enterprise demand a year after the network equipment maker issued a weak outlook.
Investors will also eye Groupon Inc, coming with its first results as a public company, to see if the largest daily deal website makes its first quarterly profit. Groupon is expected to report earnings of 3 cents per share on revenue of $475 million, according to Thomson Reuters I/B/E/S.
According to Thomson Reuters data through Tuesday morning, of the 301 companies in the S&P 500 posting results, 60 percent topped expectations, tracking below recent quarters at this point of the reporting season.
Rambus Inc advanced 8.2 percent to $8.16 after the company reached a patent license agreement with Nvidia Corp and the companies settled all outstanding claims. Nvidia shares rose 3.2 percent to $16.25.
REUTERS