INDIA AND IRAN REACH OIL PAY DEAL DESPITE SANCTIONS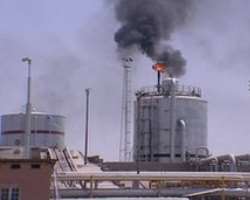 Oil exports are one of the biggest sources of revenue for Iran
India has reached an agreement with Iran on how to continue paying for its crude oil imports, as US-led sanctions against Iran are tightened.
India will pay 45% into Indian bank accounts opened by Iran and invest in Iranian infrastructure.
The sanctions are partly intended to block international bank transactions with Iran.
Asian countries have come under pressure to reduce their imports of Iranian oil.
Rupee payment
BBC Bengali correspondent Suvojit Bagchi says India imports 12% of its crude oil from Iran, or 370,000 barrels a day.
The Indian manoeuvre shows the sanctions against Iran are proving difficult to enforce because of Asia's reliance on Iranian crude, according to international consultancy group Global Insight.
Since August 2011, India and Iran have been processing crude payments through Turkey's Halkbank, but the sanctions mean Iran can no longer access those funds.
Iranian Ambassador Seyed Nehdi Babizedeh confirmed Iran had opened accounts in Indian banks to process the payments in Indian currency.
"We have had several rounds of talks, including in Tehran last week, and a mechanism agreeable to both sides has now been reached," Mr Nabizadeh said.
"One of the bank is United Commercial Bank (UCO) of India, I cannot disclose names of other banks," he said.
It is expected Iran will use the rupees to purchase Indian machinery, metals and automobile parts.
In turn, Indian companies can invest in Iranian development projects including oil and gas fields and other infrastructure.