Military Kill 8 BH Terrorists In Hideout Raid, Says Army Sources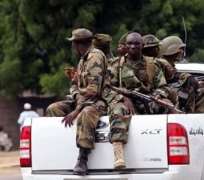 Nigeria's military has killed eight suspected members of Islamist group Boko Haram in a raid on an alleged hideout that sparked a five-hour shootout, an army source said Tuesday.
The Monday evening raid on the outskirts of Nigeria's second city of Kano was carried out as gunmen believed to be Boko Haram members bombed a police station in another city neighbourhood, where they also shot an officer in the leg.
"The military succeeded in killing eight gunmen, arrested five others and discovered five high-calibre bombs and 15 other low-calibre bombs. All these are homemade," said the military source, who requested anonymity.
Residents who visited the alleged Boko Haram hideout in Kano's Mariri neighbourhood told AFP that parts of the floor were blood-stained.
The military source added that some members of the shadowy group escaped during the raid and that security forces found a large cache of guns and ammunition inside.
"The first indications are that this is an armory for the sect," he said.
Security forces have faced mounting pressure to crack down on the group, which has said it wants to create an Islamic state across Nigeria's deeply impoverished, mainly Muslim north.
Previous claims of raids on alleged Boko Haram hideouts have so far however done little to stop attacks attributed to the group.
Boko Haram's insurgency has included both small and large-scale attacks, which have mainly targeted the police and other symbols of authority.
The group has claimed assaults that have killed more than 200 people already this year, including a sophisticated series of gun and bomb attacks in Kano on January 20 that claimed at least 185 lives - its deadliest attack yet.
In the northeastern city of Maiduguri, seen as Boko Haram's base, residents reported a series of blasts at a market on Monday evening that set fire to several vehicles and shops.
The military confirmed the explosions at the market but declined to give details.
AFP.