LABOUR FAILED WOEFULLY ON FUEL PRICE WAR - COMRADE IRABOR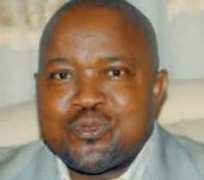 Immediate past Deputy President of the Nigeria Labour Congress (NLC), Comrade Irabor Onikolaese, has taken a critical look at the recent nationwide strike embarked upon by organised labour, in conjunction with the civil society organisations, declaring that it was a colossal failure on the part of Labour.
Irabor, who was also the former President General of Maritime Workers Union of Nigeria and now Special Adviser on Environment in Edo State, says Governor Adams Oshiomhole has proved that unionists are not just noise makers agitating for workers welfare but also good managers of men and materials. According to him, he has joined forces with the governor to salvage Edo State from the rot of the Peoples Democratic Party.
Irabor said that Oshiomhole should not be crucified over his position on fuel subsidy removal. According to Irabor, the governor is entitled to his personal opinion, adding that people should not lose sight of the fact that he is a governor and not a labour leader.
'It's the duty of organised labour to fight for and defend workers' welfare; if they can no longer run the NLC, they should tell us. Whatever anybody thinks about Oshiomhole, I know that he is a core labour leader with the genuine interest of workers at heart; that was why he was the first governor to pay the N18, 000 minimum wage,' he said.
The former senatorial aspirant of the Action Congress of Nigeria in Edo Central also says, among others, that Edo people are blessed to have Oshiomhole, as, according to him, Oshiomhole has done in the state 'what Napoleon could not do.'
How does it feel for a unionist to be in politics?
Partisan politics is a different terrain entirely. I came into it to see what I can do to salvage the leaking boat In Edo State. I am taking after the comrade governor, Adams Oshiomhole, who came in to salvage the leaking boat in Edo State. He has successfully done this and some of us have drawn our inspiration from this. If the comrade governor left the Nigeria Labour Congress (NLC) as the president to salvage our dear state, when I was his vice president, I had to also leave the NLC as the deputy president in 2010 to join forces with him, in his efforts towards bringing sanity to the state. The state was in decay for about a decade because it was in wrong hands. We are on a salvage mission here. We need to salvage Edo State and the comrade governor is the Messiah the Lord has chosen. Our role is only supportive. You know Jesus Christ could not do the jobs alone, hence he chose the 12 apostles, who he used to accomplish his mission on earth.
How would you assess Oshiomhole's performance so far?
I don't think any other person would have done what he has done so far. He has done what a Napoleon could not do. Before he came, the state was in a sorry state. It was so pathetic, to the extent that many thought the state was irredeemable. But today, we are all living witnesses to the magical turn-around. Today, Adams Oshiomhole has turned Edo State to small London. All well-meaning indigenes, even the non-indigenes should commend him for this yeoman's job because Edo State is the gateway to the eastern parts of the country and other South-South states. He has made the state the pride of all of us. We should all remember him in our prayers everyday. He is a fearless and courageous leader, who deserves commendation. I am not surprised because he exhibited that in Labour and he is replicating same here in Edo State. Those who were there before him will be ashamed of themselves now, because what they thought was impossible has been made possible by the governor.
The opposition parties call his performance window dressing and they are bent on capturing the state.
These PDP members are frustrated and disgruntled politicians who cannot win election. They believe in vote stealing and ballot manipulation. All these are mere campaign of calumny. They have nothing to offer to the people of Edo State. They have been crippled politically and they will remain disabled for life. They had the golden opportunity to prove themselves for 10 years but they frittered it away, and left the state in a mess. That opportunity will never come their way again, at least, not in our generation. They will continue to bellyache and leak their wounds. Even the blind can see the developments across the state. If they cannot feel or see anything then they are in a world of their own. They are only canvassing evil and the Edo people know what is good. So, their evil campaign has no place in their hearts.
as I said earlier, Adams Oshiomhole is our messiah chosen by God to help the people of Edo State and the Bible says, touch not my anointed and do my prophet no harm. So, by their evil campaign they are offending God. Anybody who does not admire good thing is evil. They cannot deceive Edo people again; we are now wiser after they deceived us for about a decade. No matter their campaign, there's no more place for them in Edo State. The PDP has been uprooted and thrown out of this state for good. By June, the remnants would have been swept away completely.
Edo South is believed to be shopping for Bini governor. What do you think?
Ethnic politics cannot help us in Edo State. We have put that behind us. Those of them in the PDP, who are playing on ethnic sentiments would be disappointed by the time we go for the polls in June. Edo people buried ethnic politics in 2007, when they collectively resolved that performance would be the basis of electing their leaders, regardless of where the person comes from. They aptly demonstrated this when they voted an Etsakor man for Oshiomhole. That will be demonstrated again in June when we go for election. Those who play ethnic cards will be put to shame. Tribalism and sectionalism will divide us here and I believe the good people of Edo State will not go for that. I have no doubt that he will get another four-year mandate to complete his eight-year tenure.
Instead of preaching ethnicity and sectionalism, I will advice the PDP to go back to the drawing board; prepare for the battle by putting forward a candidate who they believe can match our own brand. At this point, our programme and achievements would speak for us, coupled with our brand, Adams Oshiomhole. We should encourage and admire a good product. In fact, Oshiomhole has gone beyond a mere product; he is a brand. We once had a Bini man here as a governor, who failed woefully, but his father said he should be allowed to repeat (another four years) in office and he was given another chance. Even with that, he still failed, as there was no improvement in performance. So what do you say of a performing governor? Even those who do not like his face must like his good work in the state.
Oshiomhole supported subsidy removal. Why?
Oshiomhole is not the president of Nigeria. The removal of fuel subsidy was a decision and policy of the Federal Government. The governor merely expressed his personal opinion at the Lagos town hall meeting. No matter his opinion on this issue, government had already made up its mind on what to do. So, his opinion could not have made any difference. Labour should not hold this on him because everybody has a right to personal opinion. In fact, his views at that forum would have been enough signals to the Labour to summon courage to go back to the drawing board, re-strategise and go into serious negotiation on this issue before the strike. When they eventually went on strike, did the governor stop them? Of course, not. They should realise that he is now a governor and they should not expect him to come out openly to give support to Labour. He played his role as a governor and I tell you, no governor among the 36 would talk against the removal of oil subsidy. So, why should that of Adams Oshiomhole be different?
I believe our fellow comrades in the NLC should know this better and not put the governor on the cross. It's the duty of Labour to fight for workers' welfare and not that of government. If they say they are no longer competent to manage the NLC, they should be bold enough to tell us. The comrade governor is a core labour leader. What he did at the forum was to throw a challenge at the labour leaders and they failed to see through the veiled curtain. I must say here that they started very well by embarking ons strike and street protests, but unfortunately they ended badly. They did not manage it well due to their inexperience. They could not sustain their position. They own the cutlass but held the sharp edge instead of the wooden base. The government held the wooden base and inflected serious injuries on them. They had the popular support across the states, including the allies.' It was a tactical error on the part of labour to insist on reversal to N65 per litre before going to the negotiation table. It was a government policy announced by the president himself. So they should know that their demand was a tall one. They refused to negotiate, government on its own unilaterally reduced it to what we have today. That was a failure on the part of labour. If they had negotiated with government, there would have been the likelihood of coming down below what we have today as pump price.
As far as I am concerned, Labour failed. Labour leaders are not supposed to be at the receiving end. What they told journalists at the press conference that protesters in police cell be released would have been part of communiqué with government if they had negotiated and properly reached an agreement. Even the issue of compensation for the victims of the strike should have been properly agreed on at the negotiation table. Let me say it very clearly here, as the immediate past deputy president of the NLC: The Labour and the civil society groups have not asked for change of government.
That is coup and Labour, the world over, is not known for coup plotting; rather we are known for agitating for improved welfare conditions for workers. So, here in Nigeria it cannot be different. If government or anybody says that we were agitating for government change, then that is nothing but blackmail rather than facing the issue at hand, which is reverting to the old pump price of fuel N 65 per litre. If anybody or group of persons has that agenda they should find a way of executing it and not through the NLC or TUC.
Could you tell us about your truncated senatorial ambition?
Those who planned the coup against me and truncated my senatorial ambition are all regretting it today. They deliberately plotted against me, simply because I am a comrade. They said we have a comrade governor and we cannot have a comrade senator again. They sold the right of the people to the wrong buyers. At the end of the day, the party lost out. I have asked God to forgive them because some of them were courageous enough to come to me to apologise and asked for forgiveness. I have forgiven them. The coup was not against me, because if God says I will be a senator, I will surely get there at God's appointed time. Even right now, instead of concentrating on consolidating on the achievements of the comrade governor and support him, work towards the next election in June, these people are already talking of 2015 senatorial ambition. I think this is sheer madness. I believe the project at hand now is the re-election of our principal, the comrade governor. After his re-election, we should support him to execute his programme and leave a worthy legacy behind for which posterity will judge us and put us on the positive side of history.
How does Oshiomhole relate with labour leaders in Edo?
The relationship is very cordial. The tongue and the teeth do clash but they settle and still stay together. The comrade governor, as a core union leader, will not do anything to hurt workers. These are people he had fought to protect all his life. He will not pull down the house he built. This is why, when the issue of minimum wage came up, he was the first governor to pay. Edo State and the workers, especially, should be grateful to God for giving them Adams Oshiomhole as their governor. In fact, the shoes he left behind in the NLC are so big that his successor cannot walk with them. He is wobbling in the shoes. When I observed that the election to pick my successor in office as president general of the Maritime Workers Union was going to be hijacked, I brought the delegate conference to Benin, where we had proper control over it and it was quite successful. My successor has been able to improve on where I stopped. I must say that the union is in very safe hands.