Top Nollywood Actress Caught With Dirty Act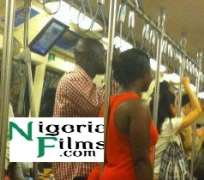 The picture above have been circulating the Internet for some days now.
In the picture is a top Nollywood icon, who visited a country outside the European Union recently. According to our little findings, the actress, who was once involved in one controversy boarded a mass transit bus in that when she did this ignoble act, as seen in the picture.
Can you guess who this actress is?