RWANDA GENOCIDE: ICTR SEEKS REFUGE FOR ACQUITTED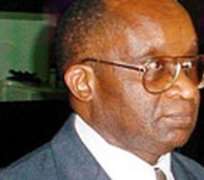 Andre Ntagerura was freed in 2006 and is still waiting to find a country of refuge
The court trying Rwandan genocide suspects is appealing for countries to give refuge for those acquitted, the UN tribunal's spokesman has told the BBC.
Five of 10 people cleared of involvement in the 1994 killings believe they cannot return to Rwanda.
They remain in a house in the Tanzanian town of Arusha, where the International Criminal Tribunal for Rwanda (ICTR) is based, guarded by police.
The ICTR is due to wind up its trials by the end of this year.
Some 800,000 Tutsis and moderate Hutus were massacred in 100 days in 1994.
'Burden'
ICTR spokesperson Roland Amoussouga told the BBC that finding countries willing to accept those acquitted of charges "was one of the key challenges facing the tribunal".
"It's a burden on us to continue hosting for so many years these acquitted people and we've worked with them and their lawyers to identify suitable countries were they can be sent. So far we have not been successful," he said.
The five men still living in Arusha and acquitted by the ICTR are all Hutus and include a former brigadier general, ex-ministers and a businessman.
They live together in a safe house and can go to town and to church, but otherwise cannot leave.
Andre Ntagerura – the former minister of transport – has been waiting nearly six years for refuge since his acquittal.
The five have been joined in the safe house by two others who have served their sentences, but also have nowhere to go.
BBC Africa analyst Martin Plaut says their fate resembles the detainees at Guantanamo Bay – the detention facility which the US wishes to close but whose inmates other countries are reluctant to take.
The men in Arusha have families in Belgium, Canada and France but so far they cannot get permission to join them, despite appeals to the UN Security Council.
Since the court started in 1997, the ICTR has dealt with 72 cases – of which 18 are on appeal.
It has three cases in progress and one person awaiting trial – all of these must be finished this year, with the appeals hearings to be completed by the end of 2013.