Apple Hires Away Dixons Chief To Expand Retail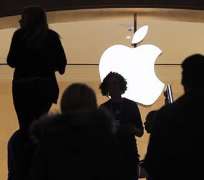 Apple Inc is hiring Dixons Chief Executive Officer John Browett, who drove a recent turnaround at the British electronics retailer, to lead the iPad maker's retail expansion.
Browett, who has headed Dixons since 2007, was previously chief executive of Tesco PLC's successful online shopping site.
At Apple, Browett will be responsible for the company's retail strategy and the expansion of its stores around the world from the current total of around 300.
"Our retail stores are all about customer service, and John shares that commitment like no one else we've met," said Apple CEO Tim Cook, to whom Browett will report.
Browett replaces Ron Johnson, who left Apple last June to take the CEO post at retailer J.C. Penney Co Inc.
On Johnson's watch, Apple opened its first retail outlet -- in McLean, Virginia -- in May 2001. It now has a chain of more than 300 stores, which generated an average of $34.1 million each in fiscal 2010 and accounted for 15 percent of the company's net sales.
"(Browett)'s got big shoes to fill," said BGC Partners analyst Colin Gillis. "Ron Johnson drove the Apple store as a customer experience with a positive halo effect for the business."
Wall Street views Apple's stores as an important advantage in competing with rivals Google Inc and Amazon.com Inc as well as other traditional PC makers.
Apple's retail success is likely to keep growing over the next few quarters as huge numbers of consumers continue to snap up the company's popular iPhones and iPads. Apple sold 37 million iPhones and more than 15 million iPads during the last quarter, and its cash balance swelled to nearly $100 billion by the end of 2011.
Last week, Apple posted quarterly results ahead of market expectations.
Browett's appointment has sparked speculation in some quarters that Apple may be planning a push in its retail operations in Europe, where his expertise is greatest.
But Gillis said that while Browett's international experience is helpful, the British retailer did not appear to have the relevant expertise in Apple's key growth markets in Asia.
In October, Best Buy abandoned plans for a chain of European megastores, while Kesa Electricals, Europe's No. 3 player, effectively paid a bidder to take the British money-losing Comet chain off its hands.
Both companies, as well as Home Retail's Argos business, have struggled to compete with Dixons in the UK as Browett revamped stores, focused on more popular megastores and improved product ranges with a mantra of improving the shopping trip for customers.
Shares of Dixons Retail, Europe's second-largest electronics retailer and owner of the Currys and PC World chains in Britain, fell 4.7 percent on Tuesday after it said Browett would quit in April to join the world's leading smartphone maker as senior vice president of retail, based in California.
Dixons, which also runs Elkjop in Nordic countries, UniEuro in Italy and Kotsovolos in Greece, said Sebastian James would succeed Browett.
James, who was instrumental in executing much of Dixons' turnaround plan, is the company's operations director and a former strategy director at mother and baby products retailer Mothercare.
"We understand that the board had already carried out external bench-marking as part of its succession plans, and had decided that internal candidates would provide the best solution," said Investec analyst David Jeary.
Dixons shares, which had increased by more than half over the last month after the well-received Christmas trading update, were down 8.7 percent at 13.95 pence. Apple was up 1.1 percent at $457.76 in morning Nasdaq trading in New York.
($1 = 0.6377 British pounds)
REUTERS