Exxon Mobil Narrowly Beats Street, Shares Fall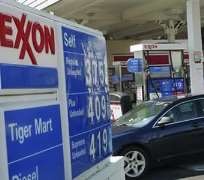 Exxon Mobil Corp's profit narrowly beat expectations, as rising oil prices offset falling margins for chemicals and fuel, and production fell short of some estimates, and its shares fell almost 2 percent.
Fourth-quarter production of natural gas and crude oil dropped 9 percent, which Barclays Capital analyst Paul Cheng said might have been partly caused by reduced European natural gas sales due to warm weather.
"Even taking this into consideration, production volume was disappointing," Cheng wrote in a note to investors.
While full-year 2011 output rose 1 percent, capital expenditure was at the top of Exxon's multi-year guidance range, at a record $36.8 billion, and oilfield spending generally is seen rising even further this year.
Spending billions more just to maintain steady output has become a running theme for the world's major oil companies. Chevron Corp increased its 2012 capital spending plans to $32.7 billion after its 2011 budget came in $3 billion higher than originally expected.
Exxon posted a fourth-quarter net income of $9.4 billion, or $1.97 per share, compared with $9.25 billion, or $1.85 per share, in the year-ago period. Analysts, on average, had expected earnings of $1.96 per share, according to Thomson Reuters I/B/E/S. Analysts lowered their expectations by a few cents in the past week.
The quarterly profit was Exxon's lowest for 2011.
Exxon revenue rose 16 percent to $121.61 billion. Analysts, on average, expected $119.7 billion in revenue.
Rising oil prices helped lift Exxon's profit in the upstream unit, which produces oil and natural gas, by 18 percent. Land sales also contributed to profit, the company said.
Still, the weak economy hurt Exxon's margins. Profit at its downstream unit, which makes engine lubricant and fuel, fell 13 percent. Profit at the chemical unit, which makes plastics and related products, declined 49 percent.
The Irving, Texas-based company spent $10 billion during the quarter on capital projects and exploration, in line with the same period in 2010.
Shares of Exxon were down 1.8 percent at $83.97 in late morning trading on the New York Stock Exchange.
REUTERS