JONATHAN MUST TAKE CHARGE OF AFFAIRS - BASORUN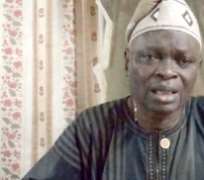 By Bose Adelaja and Bashir Adefaka
Chief Reuben Olorunfunmi Basorun, a former CBN deputy director,Second Republic Secretary to the Lagos State Government (SSG) under Alhaji Lateef Jakande, pioneer chairman of the PDP in Lagos State and now a leader of the ACN, in this interview spoke on Lagos politicsand security challenges facing the country.
Assessing  Nigeria under the current dispensation, he sums up his comments by saying President Goodluck Jonathan is not the Messiah Nigeria is looking for.   Excerpts:
You were the pioneer chairman of the Peoples Democartic Party (PDP) in Lagos PDP. Why did you decamp to the Action Congress of Nigeria (ACN)?
This was informed by many factors one of which was that PDP was not winning in Lagos and the dividends of democracy was not extended to us.
What do you think was responsible for this?
*Olorunfunmi Basorun
Well, ACN was stronger in all ramifications and those in charge were very articulate with good strategies as politicians but there were many factions in PDP. We were not united in pursuing goals that will give the party victory and this has remained till date.
The major reason was that I did not want to remain in a party where fighting is the order of the day. When I left the party, I sat down and made comparison and I decided to join the party in power in order to use my position to do something reasonable; to satisfy my yearning for bettering the lots of my community.
When I was leaving PDP, I told myself that I was going to bury the party in Lagos State and this has been achieved.  As I am talking to you, PDP has been buried in Lagos State, it is just the carcass that you are seeing.
How can you describe President Goodluck Jonathan's administration so far in the light of many challenges facing the country?
He is not the Messiah Nigerians have prayed for. By my own calculation, he appears to have been confused and so he appears not to be in charge of affairs.
Who is in charge?
He has some remote control people called advisers. Without being pushed around, an executive president should be able to make a minimum of 50 per cent contribution of ideas but the reverse is the case.
What about his national transformation programme that has been lauded as a good programme?
He is not engaged in transformation, he is scattering the country. At this point in time, the country should be talking about stable power supply, reduction in cement price and how to combat Boko Haram and not the subsidy removal that he has already done.
Don't forget that before now he started by gunning for an elongated single tenure project.  These are a misplaced priority.  He should have waited to capture the interest of Nigerians before thinking about all these. Nigerian roads are bad and it is all the same song at all time.
If the rain that flooded parts of Lagos last year had continued the way it started, many Lagosians would have been swept away by flood but the President never looked at holistic way of solving that problem.  He appointed many ministers who are not doing anything.
I'm told that the Benin-Ore road is being fixed but a host of others are still in a sorry state and the President feels unconcerned while the roads keep claiming innocent lives. Jonathan should sit down and introduce meaningful programmes.
What do you think should be his priority?
Two things are paramount now, security and power. The economy is dwindling and investors have ceased to patronize Nigeria because of power and security challenges. A small scale factory uses as much as N45,000 worth of diesel within three days, this will automatically affect the production cost.
Let us talk about the minimum wage, people like us no longer pay a minimum wage but living wage to enable our workers pay house rent and cater for their families. In my company, the least paid workers get above N20,000, while the government is dragging its foot about the minimum wage, they keep repeating the stories that we all know and have changed their system of looting the economy to another tactics.
They no longer use the 'Ghana must go' method.  Now you can come out of Aso Rock without holding anything; yet you can be assured of about N20 million at the end of the day. How the carriage is achieved is another story but certainly not through the old fashioned 'Ghana must go' approach.
What is the hope of Nigerians?
They should be hopeful and pray that the Messiah will come one day, there is no Messiah as at now. When they went in search of Okonjo Iweala, what they don't know is that they have invited somebody who owns a foreign account which Nigerian law does not permit, the law states that no legislator should operate a foreign account but they are now reasoning weather they are going to reverse this so that those who have left their job and traveled to foreign countries can retain their foreign accounts. That is another digression of law and order.
How do you merge politics and business?
Politics is a service to the nation while business gives me a source of income. I am the head of my church and this gives me opportunity to be closer to God but I never allow any of these to interfere with another.
As a former deputy director of the Central Bank of Nigeria, how would you assess the banking sector cleansing by Governor Sanusi Lamido Sanusi side by side with merger and Islamic banking which raised dusts at the time?
We should thank Sanusi who is a Muslim for cleansing our banks.  What did Erastus Akingbola do?  What did Cecilia Ibru do?  They only helped to cart away other people's money.  I am not accusing them but Oceanic and Intercontinental banks were run by Christians but what was the outcome?
Which is not also to say that Christian that they are caused the problem.  People should stop weeping religious or ethnic sentiment into matter that affect our collective corporate existence as a people.  I am a Christian myself but I see nothing wrong in what Sanusi did.  He only has put a structure in place which, we may not know now but certainly in future, we shall come later to realize.
I mean, remove the word 'Islamic,' put 'Zero interest' and the controversy ends. It is a matter of choice.  Islamic banking is not an issue to be discussed, it is a bank that encouraged Zero interest.  It is just the word 'Islamic' that is bordering many Nigerians.  They have given it a name internationally and we cannot change it in Nigeria.  So the controversy about it is not necessary.
Although the issues of Boko Haram and fuel subsidy removal imbroglio appear to have hijacked the noise being made about Islamic banking in a way that people forget about it  for now but, frankly speaking, let me state clearly here that, if they call it Christian banking in a country where Christianity is dominant, people will not raise an eyebrow.
You don't need to go there (the bank) and recite Holy Qur'an before you operate it or before you can be allowed to transact business with them.  We are going there to do business and nobody is forced to operate it.  We should not bring in controversy that will divert out attention from important issue and the important issue is how to make our nation great economically.
National security problem, how has it affected you as a person?
I had a taste of this during the last election when some people stormed my residence and said they were members of Aiye and Eye but I did a bit of psychology on them and this has not repeated itself since then. If that is what they have chosen for themselves, they will pay for it one day. We grew up in this town and our children are not involved in cultism.
What is your assessment of Governor Babatunde Fashola-led government of Lagos State since he came to office first and now the second time?
He is doing well, so much that all of us are excited about his performance.  All we can do is to pray for him everyday but he should remember the rural areas because some people are alleging that he pays too much attention to the metropolitan areas in terms of mega city programme.
But is it not true that some rural areas still suffer from lack of government attention?
I believe he is not neglecting the rural areas.