Wasteful Presidency: Senate Jabs Aso Rock Over N766m Earmarked For Food & Refreshment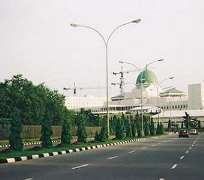 ... Says Villa's Recurrent Expenditure Outrageous
ABUJA, January 30, (THEWILL) - The Senate on Monday expressed disgust over Presidency's budgetary allocations.
It described as outrageous the personnel and overhead budget of the State House in a country where 70 percent of the people live below a dollar per day and 90 percent live below 2 dollars a day. They therefore urged for a total review.
Senators particularly frowned at the allocation of N473 million for foodstuff and catering, and another N293million for refreshments.
The State House spent about N2.2 Billion as personnel expenditure in 2011, just as it spent N9.1billion as overhead in the same year. It also plans to spend about the same amount in 2012.
The Senate Committee on Federal Character said that it was more concerned about judicious utilization of the public funds.
Deputy Chairman of the Committee, Senator Isa Galadu (PDP, Gombe) who spoke when the State House management led by its permanent Secretary, Dr. Tunji Olaopa came to defend their 2012 budget, said that while other ministries were pruning down their recurrent budget, that of the State House seems to be on the increase.
"A country where 70 percent live below a Dollar per day, 90 percent live below 2 dollars a day, this budget is absolutely outrageous. I think you need to explain more because our main concern is for the people we represent to see that this budget is judiciously utilized. Apart from the foodstuff and catering of N473 million, there is another N293million for refreshment. I think, there is need for prudence especially if you look at your personnel cost, your overhead cost. I agree that you are a service ministry but in some ministries, you have personnel and overhead at 73 percent, but in your own case, you have about 300 to 400 percent.
"In 2012, you have separated overhead; you now have overhead and overhead OVP, what is OVP. If you add the two together, they are more than overhead in 2011. If every department are sacrificing to reduce recurrent and support capital projects, state house can't be an exception. Let me give you an example, I have a rare privilege of having breakfast with president two months ago, there are over 24 choice of what you want to eat, if you can reduce that to say five, that may save you some cost and also save Nigeria some costs," Senator Isa Galadu said.
Explaining why the State House budget especially the overhead was high the permanent Secretary said: "We can run the democracy like the military. We are trying to run an inclusive government. The State House had N2 billion as a whole. The personnel cost is N2.2 Billion, Overhead is N9.1 billion, Capital is N8.9 billion. In terms of performance the personnel recorded 96.63 percent budget performance.
"Overhead 99.97 percent based on the releases that we are able to get. In terms of revenue generated and remittance made, independent revenue, we have N 2. 6. 121 Billion With 100 percent remitted. In terms of VAT, we generated N1.2 Billion generated there a balance of N4 million which has to do with the records of those who are dealing with us that we are resolving, we are sure that within the next one week, we be able to resolve it. In terms of withholding tax we have remitted close to 100 percent. In terms of PAYE, we generated N48 million.
"On the whole we generated N2.8 billion with N8.6 billion yet to be remitted. Foodstuff from what you saw is N500 million and the refreshment, like I said before, it has to do with the volumes of meetings that is held every week and there are retinue of people coming. Incidentally in 2011 and lately it is based on the state of the nation. The level of consultations have increased. If you multiply the number of meetings per week and month and then extrapolate into a year you will appreciate what we are doing.
"But I do agree with you and an effort is being made now. We have a whole range of guest houses now that is supplementing the people that we send to the hotels so that we can reduce cost. But what it means is that if we reduce cost from the hotel end, we have to increase cost of foodstuff. We discover that when you put high premium guests in the hotels you really have very little to control in terms of their consumption. For this reason, we have had to activate a whole range of Presidential chalets that are available," he added.