RYANAIR REPORTS 14.9M EURO PROFIT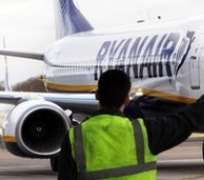 The carrier lifted its full-year profit guidance
Ryanair has reported a net profit of 14.9m euros ($19.6m; £12.5m) in the last three months of 2011, thanks to higher fares and better weather than the same period a year earlier.
It compares with a loss of 10.3m euros in the final quarter of 2010, when there were cancellations due to snow.
The budget airline said average fares rose 17% due to reduced seat capacity and higher fuel surcharges.
Revenues rose 13% to 844m euros, despite a 2% fall in passenger numbers.
The airline carried 16.7 million passengers in the quarter, down from 17 million a year ago.
In contrast, rival Easyjet announced last week an 8.1% increase in passengers in the last three months of 2011.
Guidance raised
Ryanair said it had faced higher fuel costs, which had risen 18% on the year.
It expects its fuel bill for the next financial year to rise by about 350m euros, leading to speculation that fares will continue to rise.
The company said that its quarterly profit was "slightly ahead of guidance".
It now expects its full-year profit to exceed previous guidance of 440m euros and rise to 480m euros.