THE ARTIST'S MICHEL HAZANAVICIUS TAKES DIRECTING HONOUR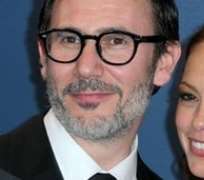 The Artist's Hazanavicius attended with his leading lady Berenice Bejo
The Artist director Michel Hazanavicius has clinched top honours at the annual Directors Guild Awards.
The Frenchman was barely known in Hollywood prior to the success of his silent era movie The Artist, which has dominated this year's awards season.
"It's maybe the highest recognition I could hope for," said Hazanavicius, who beat household names including Woody Allen and Martin Scorsese.
The award puts the 44-year-old in pole position to win the Oscar in February.
Hazanavicius emerged victorious from a field of heavyweights which also included David Fincher, for The Girl With The Dragon Tattoo and Alexander Payne, for The Descendants.
The Directors Guild of America awards are seen as a key indicator of Oscar success. Only six times in the 63-year history of the guild awards has the winner failed to go on to win the Oscar for best director.
Accent
It also makes The Artist, which received 10 nominations for the Academy Awards earlier this week, the frontrunner for the best picture trophy.
"Maybe you noticed, but I'm French. I have an accent. I have a name that is very difficult to pronounce," Hazanavicius told his fellow directors at the award ceremony in Los Angeles.
But he continued: "I'm not American and I'm not French, actually – I'm a film-maker… I feel like I'm being accepted by you, not as Americans, but as film-makers."
He thanked the audience, saying: "This is really very moving and very touching for me."
British director James Marsh – a previous Oscar winner for Man On Wire – won the film documentary prize for Project Nim, about a chimpanzee who was raised as a human child.
It marked another loss for Scorsese, who was nominated twice: for the family tale Hugo and for the George Harrison documentary Living in the Material World.