DANGOTE TO COMMISSION 6M TONS IBESHE CEMENT PLANT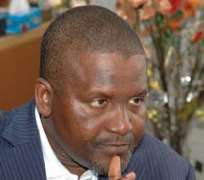 All is now set for the official commissioning of the multi-billion dollar six-million tons per annum Dangote Cement, Ibese plant, the operation of which will effectively mark the end of the era of cement importation into the country.
Indeed, Dangote Cement Plc., the leading cement manufacturer, said that the commissioning of the Ibese Plant, near Ilaro in Ogun State on February 9, 2012, would be opening a new chapter in the economic history of Nigeria as the opening of the new plant, reputed to be the largest in Africa, is putting Nigeria on the world map as not only a producer of the vital commodity but also a net exporter in months to come.
'We are marking the closing ceremony of cement import in Nigeria with the coming on stream of our Ibese cement plant which will be producing a combined six-million tons per annum from its initial two lines while addition two line will be added immediately to increase its production to 12 million tons per annum', the management of Dangote Cement said at the weekend.
President of the Dangote Group, Alhaji Aliko Dangote had told the nation that his organization was taking up the challenge to lead the way in the effort as making the nation self-reliant in the cement production as the nation was losing a huge sum in foreign exchange on import.
According to him, the desire of the Dangote Cement is to ensure the country not only move away completely from export of certain commodities, of which cement is one, but to strengthen the local production capacity to make her exporting nation and increase her foreign reserves. Said he: 'Our long term ambition is to develop 46 million metric tons of production and terminal capacity in Africa by 2015. We want to become a truly pan-African champion in the sector, capable of competing globally with the largest cement companies in the world.'
Dangote's current project in cement manufacturing is to further extend his consortium across Africa. Its cement business which has generated revenues of US$3 billion in 2010, already reaches 14 African countries, including Nigeria, Benin, Cameroon, Cote d'Ivoire, the DRC, Ethiopia, Gabon, Ghana, Liberia, Senegal, Sierra Leone, South Africa, Tanzania, and Zambia.
On the expansion of cement production to meet Africa's demand after successfully meeting Nigerian local consumption needs, Alhaji Dangote said that According to Dangote, 'Our long term ambition is to develop 46 million metric tons of production and terminal capacity in Africa by 2015. We want to become a truly pan-African champion in the sector, capable of competing globally with the largest cement companies in the world.'
Group Head Corporate Communication of the Dangote Group, Anthony Chiejina pointed out 'considering that Nigeria's cement need is between17 to 19 million tons per year, by implication, with the coming on stream of Ibese, what Dangote Group alone will be producing will be far more than the country's demand. That will set the pace for exportation of our products which will lead to increased products, more revenue for the company and better returns for the shareholders.'